A More Efficient Algal Biofilm Reactor
S. Himmelstein | July 26, 2017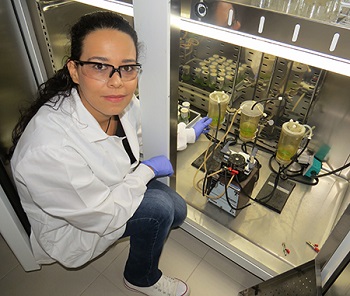 Graduate student Sandra Rincon growing samples using new cultivation technique. Image credit: Washington State University
The potential benefits of harvesting algae are manifold, ranging from fuel substitute to feed, fiber and fertilizer resource supply. However, the current logistics of algae cultivation are undermined by low-efficiency biofilm reactors and the labor-intensive nature of harvesting.
To address these constraints, Washington State University researchers re-engineered the biofilm reactor. The new system recycles carbon dioxide and oxygen and relies on less water and lower light levels than typical reactors. A removal membrane simplifies the harvesting phase.
The microalga Chlorella vulgaris were fed glycerol, a biodiesel production waste product, and urea, which serves as the nitrogen source. The algae produced was full of the fats that make it suitable for biodiesel production and fatter than other biofilm reactors have produced. The main fatty acids produced were C18:1, C18:2 and C16:0, and there was a low saturated fatty acid content of 23.37 percent.