New catalyst can recycle cooking oil into biodiesel
Siobhan Treacy | October 28, 2020
Researchers from BMIT University created a powerful and low cost method to recycle used cooking oil and agricultural waste and turn it into biodiesel. The new method could also turn food scraps and plastic trash into valuable products. To create their new method, the team used a new ultra efficient catalyst that makes low carbon biodiesel and other valuable and complex molecules out of diverse, impure and raw materials.
Currently, researchers use an energy-intensive cleaning process to turn cooking oil waste into biodiesel. The commercial production methods can only handle pure feedstocks with one to two contaminants.
The new catalyst is so tough that it can make biodiesel from low grade ingredients, called feedstock, that has up to 50% contaminants. The catalyst is so efficient, it could double manufacturing productivity by transforming rubbish into high value chemical precursors that can then be used to make a variety of products, from medications to fertilizers to biodegradable packaging.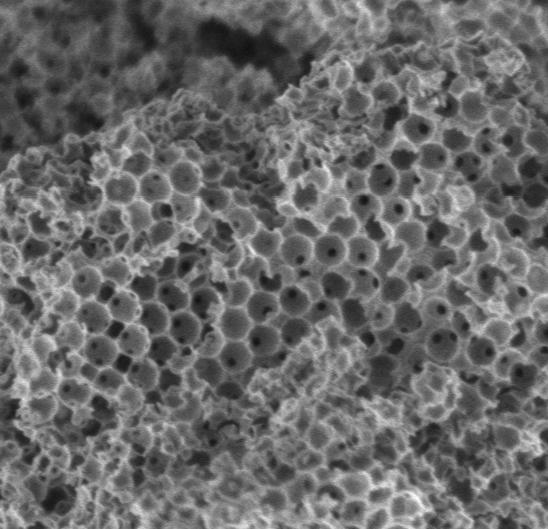 Sponge-like catalysts could transform biodiesel production and chemical manufacturing. Image shows the porous ceramic sponge fabricated in the study (magnified 20,000 times). Source: RMIT University
Conventional catalyst technology depended on high purity feedstocks and expensive engineering solutions to compensate for low efficiency.
To create the catalyst, the team fabricated a micron-sized ceramic sponge that is 100 times thinner than a human hair. The sponge is highly porous and has different specialized active components. Molecules enter the sponge through large pores, undergo a chemical reaction, then pass through the second wall of smaller pores and, finally, undergo a second reaction.
This is the first time a multifunctional catalyst that can perform several chemical reactions in sequence with a single catalyst particle has been created. The catalyst's design mimicked the way enzymes in human cells coordinate complex chemical reactions. Previous catalysts with multiple simultaneous reactions have had little control over chemistry and can be inefficient and unpredictable.
The sponge-like catalyst contains no precious metals and is cheap to manufacture. Creating low carbon biodiesel with these catalysts requires no more than a large container, gentle heating and some stirring. This approach could advance the distributed biofuel production and reduce reliance on fossil fuels. The catalyst could empower farmers to produce biodiesel directly on their farm using their own agricultural waste.
The team says with more development, the catalyst could be tailored to produce jet fuel from agricultural and forestry waste, old rubber tires and algae. Next, they aim to scale up catalyst fabrication from grams to kilograms and use 3D printing technology to accelerate commercialization.
A paper on this technology was published in Nature Catalyst.