Remote Sensing Equipment Tested for Oil Spill Detection
S. Himmelstein | July 19, 2017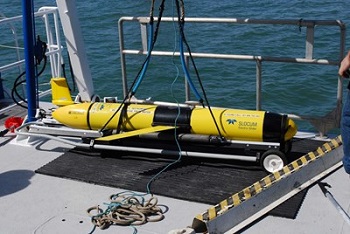 Image credit: OSRL
The potential of remote sensing technologies to effectively identify and monitor oil spills at sea was gauged in an exercise off the southern coast of England. The latest in satellite, airborne and in-water surveillance and communications equipment was tested by Oil Spill Response Ltd (OSRL).
The project showcased OSRL's Southampton-based Visualization Center, which provided a "common operating picture," integrating data from each of the technology partner's equipment as well as oil spill modeling platforms and satellite feeds.
Equipment and providers included:
Radar and optical satellite imagery (MDA, Earth-I, Airbus and Telespazio)
Infra-red and ultraviolet sensors on the OSRL UKCS aircraft (2Excel Aviation)
Airborne hyperspectral sensors (2Excel Aviation)
Unmanned aerial vehicles (UAVs) (Sky Futures and Bristow Group)
Autonomous underwater vehicles (AUVs) (Blue Ocean Monitoring and Planet Ocean)
A surveillance kite with a coded orthogonal frequency-division multiplexing (COFDM) link (Domo Tactical Communications (DTC))
IP mesh network on vessel and crew (Briggs Marine and DTC)
Shoreline clean-up assessment technique (SCAT) based surveys testing a new SCAT e-tool
The remote sensing systems deployed, identified and monitored the controlled spill, and OSRL said it was satisfied by the performance of the various new technologies involved. The company also concluded the response equipment and personnel operated in an efficient and effective manner, providing validation of its approach.