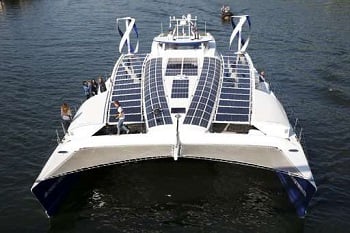 The self-fueling Energy Observer has started a six-year, round-the-world journey that its designers hope serves as a model for emissions-free energy networks. Image credit: AP Photo/Kamil Zihnioglu, FileA six-year, round-the-world journey is now underway for the Energy Observer. The former race boat has been retrofitted as a self-fueling vessel and is equipped with hydrogen fuel cells, solar panels and wind turbines.
The 100-foot-long vessel relies on solar and wind energy during the day. At night, it harnesses a reservoir of hydrogen that the boat itself produces through electrolysis of seawater. The 5 million-euro ($5.25 million) boat left Paris on July 15 on an itinerary that includes 50 countries and 101 stopovers.
The crew plans to visit capital cities that are already engaged in energy transition programs, islands that are completely energetically autonomous, threatened ecosystems and UNESCO World Heritage Sites.
You can follow the progress of the Energy Observer here.