Smart City Could Rise in Midtown Manhattan
Engineering360 News Desk | December 01, 2015
A city within, and on top, of a city is growing on the west side of midtown Manhattan. Its realization, still a decade away, could rank among one of the great engineering feats in U.S. history and, its proponents say, will help drive and accommodate economic, cultural and residential expansion for New York City in the 21st century.
The largest development in New York City since Rockefeller Center, the Hudson Yards Redevelopment Project will incorporate over 17 million square feet of commercial and residential space, more than 100 shops, a collection of restaurants, approximately 5,000 residences and 14 acres of public open space.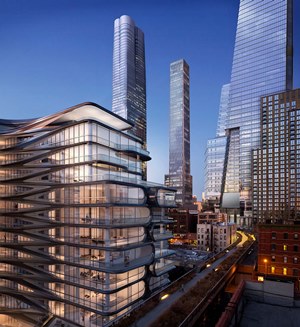 Artist's view of Hudson Yards looking north. Image credit: Related-Oxford.One problem is that the Long Island Rail Road (LIRR) commuter system—North America's busiest, with 350,000 riders daily—runs through the construction site (bounded by West 30th Street to the south, West 33rd Street to the north, 10th Avenue to the east and 12th Avenue to the west). To solve the problem, two "platforms" will be built to bridge 30 active LIRR train tracks, three subsurface rail tunnels used by Amtrak and New Jersey Transit and a fourth passageway--the Gateway tunnel--completed in late 2014. The platforms will cover approximately three-quarters of the eastern and western yards. Throughout the project's construction, the LIRR, Amtrak and New Jersey Transit trains will remain operational.
The Eastern Rail Yard platform alone will comprise a 10-acre deck capable of supporting six acres of open space, four towers, a cultural center and 1 million square feet of retail and restaurants. The platform and buildings above the eastern yard will be supported by 300 caissons, ranging from four to five feet in diameter and 20 to 80 feet in depth, that will be drilled deep into the bedrock between existing railroad tracks.
The caissons are effectively underground concrete columns with steel bars inside of them shaped like cages that contain more steel. The caisson locations will support the buildings while they avoid conflicts with the existing tracks and utilities below.
Creation of the structural supports for the rising city isn't the only engineered aspect of the project. Its developers are intent on creating a model "smart city" that will use big data and electronics to integrate the functioning of buildings, streets, parks, utilities and public spaces to a degree and scope never before attempted in the U.S. Among the smart features:
Communications supported by a future-proofed fiber loop, designed to optimize data speed and service continuity for rooftop communications, as well as mobile, cellular and two-way radio communications. This will allow continuous access via wired and wireless broadband performance from any device at any on-site location.
Waste-management systems designed to keep garbage out of sight. A vacuum-tube system that will accommodate three waste streams (organics, recyclables and trash) will send retail and residential waste from chutes on each building floor to a central terminal. This is intended to eliminate piles of garbage on sidewalks as well as trash-hauler traffic. Food-service organic waste will be converted to dry fertilizer at 10% of its initial weight and size.
Hudson Yards will have onsite power-generation capacity to keep basic building services, residences and restaurants running even during storms and power grid disruptions.
Buildings at Hudson Yards will be connected through a micro grid, allowing them to be heated and cooled with their own equipment or that of their neighbor. If air-conditioning is needed for just a few occupants in an office building, it can come from, say, the already-active retail center rather than powering-up the entire commercial tower's cooling plant. Data from an energy management system will be used to generate, buy and conserve power across the neighborhood.
Hudson Yards will harness big data to personalize the employee, resident and visitor experience. Supported by an advanced technology platform, operations managers will monitor and react to traffic patterns, air quality, power demands, temperature and pedestrian flow to create the most efficiently navigated and environmentally attuned neighborhood in New York.
Rainfall will be collected in a 60,000-gallon tank and used to irrigate plants and trees. It is estimated that this will save 6.5 megawatthours of energy and offset five tons of greenhouse gas every year.