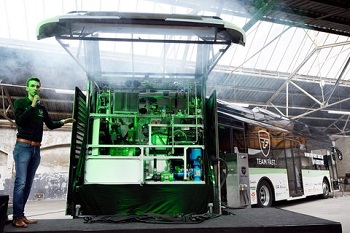 The self-built system inside the trailer. Image credit: Bart van Overbeeke
When you think of formic acid, something as tiny as ants typically comes to mind. Certainly not something as large as a city bus.
Team FAST, a student team from Eindhoven University of Technology in the Netherlands, thinks differently. They engineered the world's first system that allows a bus to drive on formic acid. A small trailer appended to the electric bus houses equipment that converts formic acid into electricity.
Why formic acid? This energy carrier, named hydrozine, is sustainable, carbon dioxide-neutral and safer to transport than hydrogen. It's 99 percent formic acid with a performance enhancing agent. Hydrozine has four times as much energy density as a battery and since it is a liquid, very few modifications will be required to the current infrastructure of filling stations.
Inside the trailer, hydrozine is split into hydrogen and CO2. The hydrogen is then used to produce electricity that powers a city bus of the Eindhoven company VDL. The team calls the trailer a 'range extender,' REX for short, because the trailer expands the existing range of the bus as a standalone component. Final tests are underway with the goal that the bus will be operating by the end of this year.