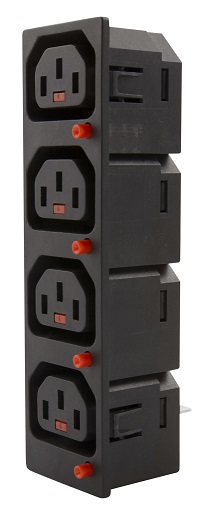 The new C-13 multi-tier outlet. Source: MEGAelectronicsMEGAElectronics has released a C-13 multi-tier outlet that features a locking mechanism designed to maintain uptime and protect against accidental disconnections.
The multi-tier power outlet features easy access buttons to operate the mechanism and comes in two versions, a four and six tier. This new multi-tier outlet takes up less space than four or six individual IEC locks would use.
The outlet is made of Nylon low smoke zero halogen (LSZH) material and has a 10A rating for Europe and 15A rating UL for the U.S. The company says the devices are designed to reduce installation time while providing power security for applications.