FPT Industrial to highlight construction equipment solutions at CONEXPO CON/AGG 2023
GlobalSpec News Desk | March 16, 2023
FPT Industrial presents its full range of Tier 4 Final and Stage V, 2.8 liter to16 liter engines at CONEXPO CON/AGG 2023, the largest construction show in North America to be held from March 14 to March 18 in Las Vegas.
Renowned for their high performance, flexibility, reliability and maximized uptime, these highly productive and efficient engines can be used across several applications (off-road, and power generation) in a fully sustainable way since they are compatible with renewable diesel fuels (HVO). At CONEXPO CON/AGG 2023, FPT Industrial aims once again to demonstrate that state-of-the-art engine technology, cost-conscious efficiency and focused sustainability, linked by ingenious design solutions, can be the ace-in-the-hole to meet all the power needs of the construction industry.
New F28 family: Modular and multi-fuel DNA
Size down, performance up. That could be the slogan of the new F28 engine family whose main distinctive feature is the capability to provide the performance of 3.4 liter engine in a 2 liter package, thus resolving the apparently impossible dilemma posed by lack of space and need for high performance. And if that wasn't enough, the F28 is born with multi-fuel design that shares common base components for the diesel, natural gas and hybrid versions. Available for both construction and industrial applications, F28 versatile design makes it ideal for equipment also in the rental industry, such as aerial lifts, telehandlers, pumps, welders, chippers and trenchers.

F28 PowerPack — Good things come in small packages
At CONEXPO CON/AGG 2023 FPT Industrial introduces the F28 PowerPack version, completing its already wide offering of pre-assembled, ready to use solutions. The new F28 PowerPack delivers best-in-category performance in an extremely compact and pre-validated package, including all key after-treatment components, thus simplifying the overall installation phase. Oil change intervals of 600 hours contribute to further lowering operating costs.
F28 Tier 4 Final/Stage V technical specifications
Engine displacement (l): 2.8
Max power: 55 kW (75hp)
Torque: 375 Nm (276 lb-ft)

F28 Hybrid concept for construction applications — Built to be sustainable
The F28 Hybrid represents a further step toward sustainable solutions for FPT Industrial. Guaranteeing a low level of carbon dioxide emissions and an integrated package, the F28 Hybrid enables the introduction of electrification on construction equipment applications. Featuring an internal combustion engine compatible with renewable diesel paired with an e-flywheel, this compact yet powerful hybrid powertrain combines high performance and low fuel consumption, making it suitable for compact construction equipment and rental units.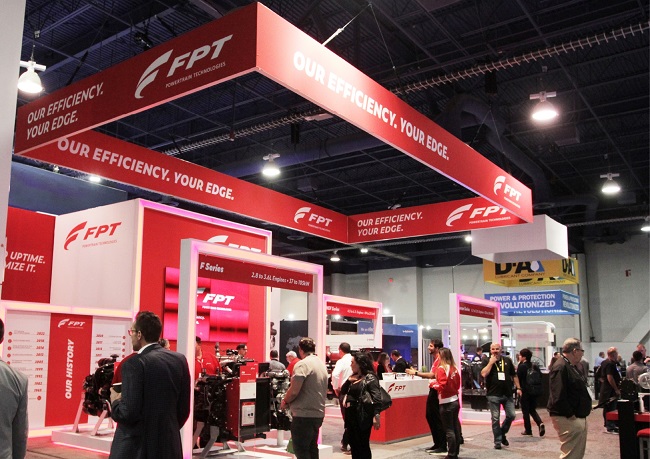 Source: FPT Industrial
The engine on display at ConExpo 2023 delivers a maximum power of 75 hp, with the 48 V electric motor that adds 27 hp of continuous electric power and up to 40 hp in peak power. The F28 scalable architecture is designed for modular extension to high voltage and based on FPT Industrial's proprietary control software, reinforcing the Brand's role as a full systems integrator.

F28 Hybrid technical specifications
Engine displacement (l): 2.8
ICE max power: 55 kW (75 hp)
ICE max torque: 375 Nm (276 lb-ft)
Electric power output 20 kWc
Innovative and patented ATS technology — superiority and practicality across the pond
Whatever the continent and the latest emission regulations, FPT Industrial not only has the specific solution that fits, but also offers dual-certified systems enabling cross-regional installations. All deliver best-in-class efficiency and minimized downtime in all applications.
For the North American market, FPT Industrial presents dedicated solutions with Tier 4 Final no-DPF technology (HI-eSCR system), while global applications are addressed with integrated HI-eSCR2 system compliant to the more stringent EU Stage V regulation and dual-certified for Tier 4 Final.
F34 Tier 4 Final PowerPack/36 Tier 4 Final/Stage V PowerPack — high performance in compact layout
The F34 PowerPack Tier 4 Final stands out for low operating costs and extremely easy maintenance in a compact layout. This solution with mounted ATS shown at CONEXPO allows for layout optimization and plug-and-play installation. The Tier 4 Final compliant ATS, without DPF, minimizes engine downtime and operating costs with a 600 hour service interval.