The Three Factors That Doomed Kemper County IGCC
David Wagman | June 30, 2017
When its history is written, the Kemper County clean coal plant in Mississippi might be seen in the same light as a transatlantic liner at the dawn of the jet age: a gallant piece of engineering to be sure, but ultimately irrelevant.
The first page of the 582-megawatt integrated gasification combined cycle (IGCC) plant's history was written 28 June.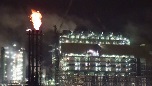 First firing of syngas a Kemper County IGCC.That was when Southern Company and its Mississippi Power business unit said they would suspend efforts to start up part of the power plant intended to convert lignite into synthetic gas. Once converted, the gas would be combusted to drive turbine generators in a fairly conventional "combined cycle" part of the plant.
Indeed, that part of the plant has been burning natural gas for months to generate electricity. In late June, the companies said they expect it to continue to do so.
An engineer's report filed with Mississippi utility regulators in May outlined a laundry list of problems with the gasification part of the plant, whose final price tag may have been around $7.1 billion. Problems included: chronic coal dust suppression issues; tube leaks in the synthetic gas cooler; insufficient process water capacity; and a too-small nitrogen plant, which required trucks to haul gas to the plant.
Those troubles point to the first of three factors that doomed the clean-coal portion of Kemper County: overly complex technology. Read more.