New Troubles Hit Kemper County Clean Coal Plant
David Wagman | March 20, 2017
The Kemper County integrated gasification combined cycle (IGCC) power plant will miss its planned mid-March in-service date.
In a March 16 filing with the U.S. Securities and Exchange Commission (SEC), Southern Co. and its Mississippi Power utility said the plant experienced tube leaks in one of the plant's synthetic gas coolers. This impacted one of the plant's two gasifier units that is referred to as gasifier "A." Engineers started an outage to perform repairs, the statement says.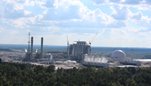 Kemper County IGCC is years behind schedule.As a result, Mississippi Power says that it no longer expects the remainder of the Kemper IGCC to be placed in service by mid-March 2017. Schedule updates are expected to be available in April.
Kemper is years behind schedule and billions of dollars over the $2.2-billion cost estimate given in 2010 when construction began. A recent financial analysis painted a dim picture of the plant's potential for profit.
(Read "Kemper County and the Perils of Clean Coal Technology.")
A decade ago, IGCC was heralded as the enabler of a continued and even expanded use of coal for electric power generation. The process starts by turning coal into synthesis gas, a combination of hydrogen and carbon monoxide. The syn gas can then be cleaned of impurities, and burned to drive a turbine. Excess heat goes to power steam turbine. Dozens of U.S. projects were proposed. Equipment manufacturers and engineering firms alike focused resources to developing the technology.
In January 2017, Mississippi Power said that gasifier "B" required an outage to remove ash deposits from its ash removal system. The utility completed the outage work for gasifier "B" and says it is in the process of resuming production of electricity using syngas on gasifier "B."
In its SEC filing, the utility says that further cost increases or extensions of the expected in-service date may still result from factors including difficulties integrating systems for sustained operations, sustaining nitrogen supply, major equipment failure, unforeseen engineering or design problems including any repairs or modifications to systems, and operational performance (including additional costs to satisfy any orders adopted by Mississippi utility regulators).
Extending the in-service date beyond March 15, 2017 is currently estimated to result in additional base costs of $25 million to $35 million per month, the filing says.