Tool Handling with Position Control
Perfectly coordinated stand and gantry solutions guide the screwdriving tool securely to the assembly position and take the positioning strain off the operator. Position control systems ensure that at the right place and at the right time, the correct connection element is assembled to the required torque
Available Systems:
Position control stand
Position control gantry
The best process reliability can be achieved with the use of a position control stand/position control gantry, which coordinates, optimizes and controls the entire production process. The stand/gantry can be operated with screwdrivers of the EC- and EC-servo series.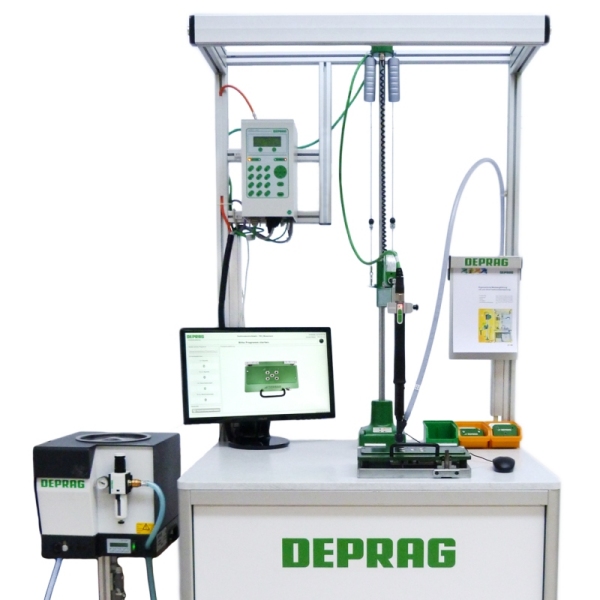 These tools feature the free programming of the screw tightening process – torque, angle, speed, standby timing and rotational direction are individually adapted to the screwdriving task. The integrated torque and angle recording assures the exact control of the screw-tightening process, as well as the documentation of important processing parameters. The position recognition feature increases processing reliability in applications where several screw-positions need to be assembled in a certain order on one product. As soon as the position control stand/position control gantry is in the correct position, screw tightening will begin.

Features:
Monitoring of the screw position and screw sequence; freely programmable
Individual screw tightening parameters are available for each screw position
Both systems take the strain off the operator by absorbing the reaction torque
Assures vertical screwdriver guidance by keeping the tool perpendicular at all times
An additional option is the integrated vertical stroke that eliminates the down-stroking of the operator. The down-pressure is then activated by a cylinder.
Sequential ordering of the connection elements according to position
The operator can upload an image of the product. By using the section "program creation" with "teach mode", each screwdriving position on the image can be indicated by the stand at the actual original positions. Up to 1000 screwdriving positions can be set per program, whereas the number of possible programs in operation with the input and output interface, is limited to 120 programs and 120 screw positions.
Should you prefer to use a pneumatic Screwdriver (instead of an electric Screwdriver) with our PKS stand, then we can offer our MICROMAT-F/MINIMAT-F screwdrivers with additional pneumatic controller PC11/FC20. Both the Precision Control Stand and Precision Control Gantry can utilize external fieldbus modules (ProfiBus, ProfiNet, EtherCat, EthernetIP).
The controller of the PKS is actually stored in the base of the stand itself. This assures that no separate controller takes space away from the workstation. There are four LED's in the base displaying the status of the process. These LED's signal the status of the screw assembly; whereby a correctly assembled position is displayed as green, an incorrectly assembled position as red and further work on the workpiece is prevented until an error is reviewed and corrected by the operator. Only then can the operator carry on and assemble the next screw position. An orange LED indicates the "power signal" and the blue LED is the indication for "system ready".