Tired of failing joints? Check out Deprag Clamp Force Control (CFC)
March 29, 2019
Sponsored Content
Applications:
This adaptive screwdriving procedure ensures a constant clamp force when drive-in torque values are fluctuating. The whole screw assembly consists of the head contact recognition and a screw assembly to differential torque or a specific angle.
A typical area of application is direct screwdriving into plastic and metal. The new screwdriving procedure for Deprag EC-servo screwdrivers, in combination with the controller AST40, is used for greatly varying tightening torques.
These fluctuations may result from alterations in the geometry of the screws or screw-hole, the component's material structure, variations in the surface quality of the screw thread, the elasticity of elements, or their seating process. The reliable recognition of head contact results in a constant clamp force.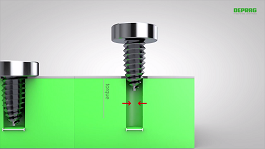 Detailed Procedure:
The torque upper-limit serves as the stop condition for the screwdriving step. The OK window for the head contact detection can optionally be monitored using seating torque upper/lower limit and angle upper/lower limit. End values are taken from the torque or angle value at the time of head contact, or the end of the screwdriving step. The final values of the template for head contact are reference for additional programming steps. These programming steps may include subsequent screw assemblies to different torques. Screw assembly to angle can follow instead of screw assembly to differential torque.
The screwdriving procedure Deprag Clamp Force Control does not replace the friction torque assembly. A screw joint analysis can determine the most suitable screwdriving method. DEPRAG offers a screw joint analysis program, where your sample parts and fasteners are tested to determine the best tightening method to use.