Launch of the WEDA+ plug and play range expands the medium and large submersible dewatering pump family offered by Atlas Copco Portable Energy (Rockhill, SC).
The WEDA+ range comprises five models: the WEDA 50, with normal and high head variants, and the WEDA 60+, available in normal head, high head, and super high head configuration. Delivering enhanced performance and extreme portability, the top-of-the-range Super High Head WEDA 60+ is 15 percent smaller and 20 percent lighter than other pumps in its class. The latest pumps offer flow rate capabilities of 1020 to 2425 l/min (61 to 146 m3/h) and a maximum head of up to 69 m, along with up to 20 percent reduction in power consumption.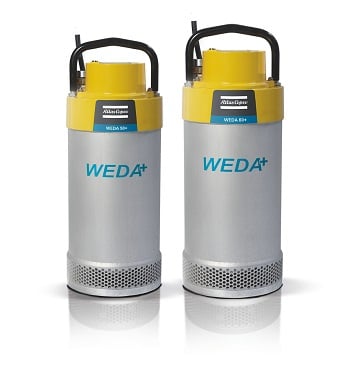 The new WEDA 50 and 60+ dewatering pumps. (Source: Atlas Copco Portable Energy)
Rotation control and phase failure protection have been introduced across all WEDA+ models to prevent the risk of the impeller rotating in the wrong direction. In addition, the entry system can accommodate a wider range of cable configurations, with an advanced motor design offering higher efficiency and reduced start current. The drive train features double row bearings for improved lifetime service. For added durability, all models are constructed with an improved aluminum alloy that provides high corrosion resistance in even the toughest applications.
Modular construction simplifies separation of principal components and all stainless-steel fastenings are the same size. This effectively means that one tool can be used to change all seals, impellers, and other parts in just a matter of minutes.
The new models include an advanced sealing system, optional automatic level control, adjustable wear-resistant nitrile rubber diffusers, and hardened high chrome clog-free impellers.