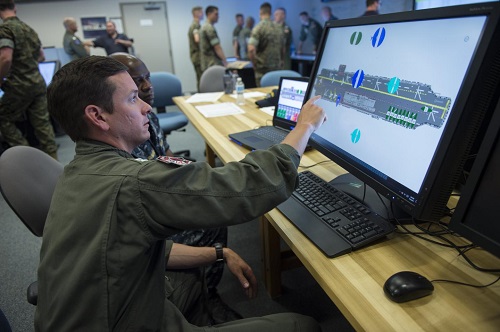 A Navy handler uses the DSIMS to adjust various configurations of a flight deck or hanger bay. (Source: U.S. Navy)On board aircraft carriers it is a constant flurry of activity with machines, jets, equipment and people running around in a variety of locations. The flight deck organizes this process in order to ensure precision and accuracy are delivered while directing deck traffic.
The Office of Naval Research (ONR) has come up with a way to simplify the process with what it calls the Deployable Ship Integration Multi-touch Systems (DSIMS), which is a mobile software platform combining a touchscreen of a ship's flight deck or hanger bay whose configuration can be shuffled anywhere on the ship.
The software package also can plan operations before deployment and share information digitally with other DSIMS users for collaboration.
The goal is to bring a fairly straightforward technological solution that increases functionality while saving time, ONR says.
Since World War II, handlers have used a tool informally called a "Quija board" to track aircraft and equipment. This waist-high, six-foot long physical replica of the deck is covered with toy-like plastic models of aircraft each market with colored thumbtacks to designate maintenance, fuel or flight status.
While effective, the board has limitations especially when planning missions or unexpected scenarios. The DSIMS helps in these situations by using fingertips or a computer mouse to move around digital aircraft to place which aircraft needs to be in which location or where equipment needs to be positioned.
"DSIMS allows for planning of future evolutions," says Tim Zieser, an engineer at Naval Air Warfare Center Aircraft Division in Lakehurst, New Jersey. "It also enables aircraft handling officers to create briefs that can be used to inform the chain of command, and train their people before a complex evolution, so everyone is on the same page."
The DSIMS prototype is slated to be delivered to several ships for testing and evaluation later this year and the ONR hopes to have the system issued throughout the fleet by next year.