Two new off-highway rigid frame trucks from Komatsu America Corp. are equipped with an EPA Tier 4 Final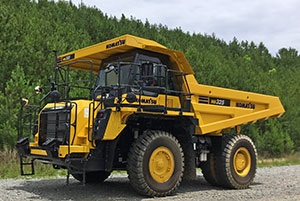 The HD325-8 off-hiighway truck. (Source: Komatsu America Corp.)certified engine and feature a new Komatsu Traction Control System (KTCS) to achieve improved productivity. The HD325-8 and HD405-8 models have payload capacities of 40.3 U.S. (short)/36.5 metric tons and 44.1 U.S. (short)/40 metric tons, respectively. They replace the HD325-7 and HD405-7 models.
Use of Komatsu SAA6D140E-7 engines yields a net 514 horsepower (383 kW). Fuel consumption is down for the HD325-8 by as much as 9 percent and by as much as 6 percent for the HD405-8 compared to predecessors.
KTCS automatically applies independent brake assemblies to achieve optimum traction in varying ground conditions. Because the system operates without the need for differential lock-up, steering performance is not compromised.
Other new standard features for both truck models include a quiet 78 dB(A) cab, seven-inch LCD color monitor, dedicated rearview monitor, fast-fill fuel system, and a premium heated and ventilated operator's seat with air suspension.
In addition, the tire size for the HD405-8 truck has been increased from 18.00 R33 to 21.00 R33, for extended wear properties.