Fort Hood Renewable Energy Project Enters Service
David Wagman | June 07, 2017
The Fort Hood hybrid renewable energy project entered service in early June. This hybrid renewable energy project has a generating capacity of 65 megawatts (MW) and is intended to provide a projected cost avoidance of $168 million in energy costs over the projects' 28-year lifespan.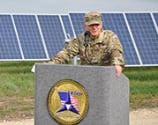 Lt. Gen. Paul Funk II, III Corps and Fort Hood commanding generalThe project represents the U.S. military's largest renewable energy procurements to date. The project structure includes creation of a new retail electric provider. ACE Power, a unit of Apex Clean Energy, will deliver the energy through three substations. The design includes microgrid-ready capabilities.
The Phantom Solar Farm on West Fort Hood consists of 63,000 solar panels on 132 acres of land and has a generating capacity of 15 MW. The wind farm in Floyd County, Texas, has 21 turbines with a generating capacity of 50 MW.
This is the Army's first hybrid renewable energy project that includes both off- and on-post power generation.
Fort Hood is the largest active-duty armored post in the U.S. military, with an annual economic impact to the Texas economy of more than $35 billion.
The Army is committed to partnering with industry on alternative and renewable energy projects that will strengthen energy security and sustainability at installations and surrounding communities.