Advanced Roller Chains Extend Operating Life in Tough Operating Conditions
June 05, 2017
Sponsored Content
Sponsored content
Roller chains have long been relied upon to deliver long lasting performance despite demanding applications. New advancements in technology now allow even longer life and higher performance even in some of the most difficult applications.
Manufacturers have long have known that chains experience challenging environments, long duty cycles, and other wear-inducing conditions and have worked diligently to mitigate their effects. However, some operating scenarios are so demanding that even the best-performing chains do not meet their lifetime potential. To extend operating life in these cases, in 2015, Tsubaki® introduced the TitanTM Series roller chains that combine the features of the company's premium chains with enhancements tailored for extreme operating environments.
To achieve this performance increase, Tsubaki developed and tested various material and design scenarios, exposing them to numerous potentially-devastating operating conditions until the right combination of materials and construction was achieved. The result is a chain that greatly extends operating life even in the presence of sand, dirt, sawdust, metallic particles, or other contaminants. It also delivers superior performance when operating in high speed applications.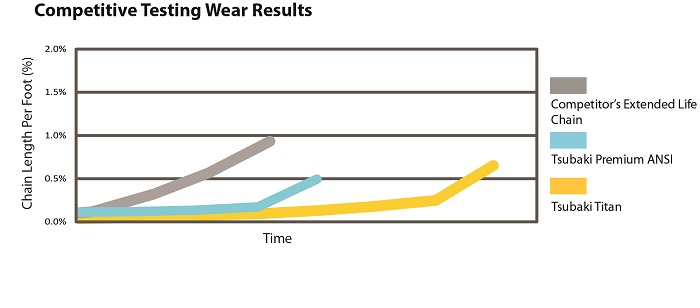 Figure 1: In tests conducted by Tsubaki, the Titan™ Series roller chains demonstrated superior elongation characteristics in comparison to the company's standard chains and competitor's extended life premium chains.
As Titan™ roller chains will operate over very long periods, Tsubaki's engineers realized that the chains would benefit from extra rust and corrosion resistance on their side plates that typically isn't an issue when a chain is replaced more frequently. To satisfy this requirement, the Titan chains also have special coated plates that provide extra rust and corrosion resistance.
The Titan™ Series chains utilize Tsubaki's patented Solid Lube Groove PerforMax® bushings made from a single piece of steel to form a seamless structure. The bushings increase surface contact between the pin and bushing while grooves on the bushing's inner surface retain oil at the contact point to reduce wear. They also utilize Tsubaki's patented ring-coined connecting links that achieve high strength and durability by creating positive compressive stresses at the pitch holes that counteract shock loads.
Titan™ series chains can be lubricated but they are not self-lubricating like Tsubaki's Lambda® series chains. The special pin makes it possible to obtain greater operating life despite less than ideal lubrication. In addition, lubrication is considered undesirable in many applications because the oil can contaminate a product. This can occur, for example, in the lumber industry where lubricating oil can be deposited on the boards, creating unacceptable defects. So the ability to extend operating life with Titan™ is a benefit in these applications.
Extending End of Life
A roller chain is considered to have reached the end of its life when wear increases its length about 2%. The elongation results from the pins rotating on the bushings when they enter a sprocket. In extreme service conditions, standard carbon-steel chains may reach end of life before the next regularly scheduled shutdown.
When this occurs, the machine must be taken off-line, sometimes with little or no warning, negatively impacting production and increasing maintenance costs. The goal in creating the Titan™ series was to reduce, and potentially eliminate, this unscheduled maintenance by making chains that wear more slowly and perform satisfactorily until and beyond their scheduled maintenance intervals.
Real-world application results from customers using Titan™ roller chains confirm the performance. Some of the most impressive results have been achieved by customers in the lumber industry, in which roller chains are subjected to conditions including sawdust and other abrasive particles that otherwise limit chain life potential.
Other Titan™ successes have been seen on sand casting conveyor lines where the chains are subjected to a high amount of fine abrasive sand particles resulting in abrasion between the pin and bushing. The special pin resists this, and more than doubled the life expectancy of the chain.
Summary
In most applications, premium roller chains such as Tsubaki's standard ANSI chains or self-lubricating Lambda® Series chains deliver high performance and long operating life. But for those cases where even these robust chains are exposed to hostile operating conditions, the Titan™ Series is quickly becoming an appealing alternative.