Tape Tames Turbulence for Wind Generation Boost
S. Himmelstein | June 03, 2017
Edge Aerodynamix spinoff, Edge Wind, is advancing wind power applications of its Conformal Vortex Generator (CVG) tape and tab technology developed for aircraft wings and helicopter rotor blades. The company has worked with the U.S. National Renewable Energy Laboratory to collect data over an eleven month period on the performance of the CVG and Tab relative to industry standard edge protection tape on the 600 kilowatt CART 2 wind turbine in Golden, CO.
The technology increases annual wind turbine energy production, provides protection from erosion and impacts, reduces drag caused by leading edge erosion, reduces startup speeds, and reduces vibrations. The CVG tape and tab is installed rapidly by two technicians on a rope rig or aerial high lift with minimal surface preparation.
Analysis of five minute average power and wind speed data indicates a 22.2 percent increase in kilowatt hour production from the CVG and the Tab relative to a conventional leading edge taped blade along with a 20.9 percent increase for the CVG alone. This shifts the power curve between the cut-in and full production wind speeds, and researchers say the technology has the potential to add the equivalent of an extra 100 gigawatts of wind capacity globally without having to install a single additional turbine.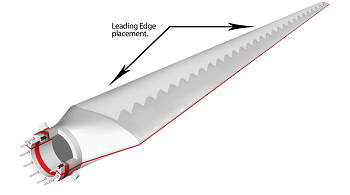 The CVG is placed on the leading edge of the wing and other surfaces to produce pairs of counter-rotating vortices in the lower boundary layer which reduce shock wave-induced vibration, increase attached free stream flows, and create suction on the boundary layer. (Source: Edge Wind)
Edge is currently looking for field trial sites with GE, Vestas, and Siemens Gamesa turbines and low turbulence in the U.S. and EU to collect the data required to CFD model and optimize the design for each turbine brand.