DNV GL Tracks PV Module Reliability
S. Himmelstein | June 03, 2017
Global energy advisory and certification company DNV GL (Oslo, Norway) released its third annual photovoltaic (PV) Module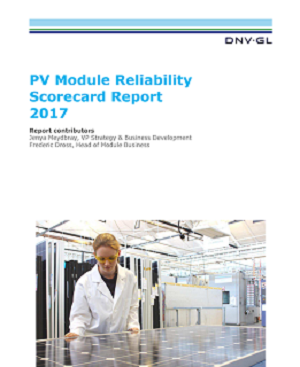 Reliability Scorecard report, which analyzes and compares reliability test results for more than 50 commercially available PV module types.
The DNV GL Product Qualification Program (PQP) submits PV components to a unique set of tests which gives performance information needed by module manufacturers, developers, and financiers. Manufacturers that participate in DNV GL's PQP can choose to participate in the Scorecard analysis. Currently about 70 percent of the largest PV manufacturers participate in the program.
Modules produced in 10 different countries were subjected to five major reliability tests: thermal cycling, dynamic mechanical load, damp heat, humidity freeze, and PID (potential induced degradation).
Major findings revealed in the 2017 Scorecard:
Most modules tested maintain performance after reliability testing. However, the bottom quartile of most tests exhibit degradation levels that could put systems at financial risk.
Specific Bill of Materials (BOMs), factories and manufacturers do matter: the same module type with different BOMs or manufacturing location often perform quite differently.
The size of the manufacturer is not a good indicator of performance in reliability testing. The same manufacturer may produce modules with a large spread in performance in reliability testing.
The number of participants in the DNV GL Product Qualification Program and therefore in the Scorecard have been steadily growing. In this edition of the Scorecard, the number of manufacturer participants jumped by 69 percent compared to last year.