Are Road Signs Distracting?
Marie Donlon | May 31, 2017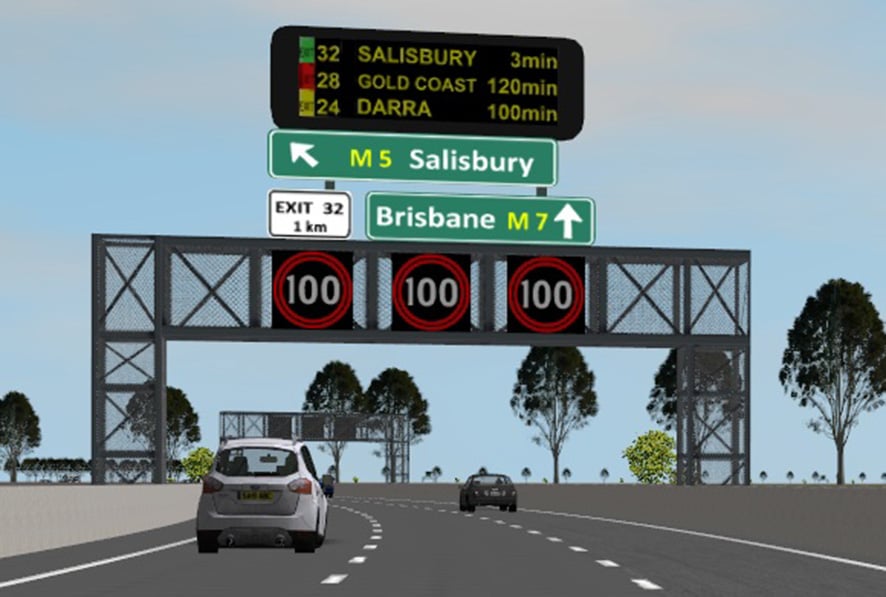 A CARRS-Q study has looked at whether freeway signage is too complicated for drivers. This is an example of where three signs are positioned at the one location. Image credit: Queensland University of TechnologyConcerned with a trend in multiple road signs being grouped together along Australian freeways, researchers explored whether or not the collection of signs are distracting drivers.
According to the Queensland University of Technology (QUT) study, drivers are neither affected by the signs nor distracted from safely responding to emergency situations because of the signs.
In fact, according to study co-author Dr. Gregorie Larue from QUT's Centre for Accident Research and Road Safety—Queensland (CARRS-Q), because of the complexity of road systems, information needs to be conveyed to drivers in dynamic ways—like the sign clusters dotting Australian freeways.
"Therefore, there is a need for well-designed road signs to assist drivers," Dr. Larue said.
"The practical (due to limited space) and cost-effective solution is often to co-locate signs along highways."
To measure drivers' responses to multiple sign information, researchers exposed 35 drivers (driving in the CARRS-Q driving simulator) to a variety of signs with different messages. During three simulated drives, participants were shown information such as a directional sign, a variable speed limit sign and a variable message sign.
"What we found was that overall there was no impact of co-locating signs on general driving performance and drivers were able to correctly choose their destination whether there were single or multiple signs displayed at the one location."
"Driving behavior in terms of being able to take the correct exit suggests that sign information was correctly understood, therefore providing strong evidence that the signs were comprehended."
"The results also showed minimal impact on reaction time in response to an emergency event, which required the driver to take evasive action."
"Drivers were safely able to respond to an emergency braking situation while successfully detecting changes in direction advised by signage."
Dr. Larue insists that the signs are designed to enable drivers to safely reach their destinations while also helping road authorities reduce construction and maintenance costs by situating the sign clusters at individual locations.
"Road agencies are increasingly viewing co-locating signs as a positive option for example where multiple crucial messages are required over a short distance of road."
"Importantly, this study did not identify any higher risks of triple co-located signs compared to the current scenarios of no co-location and dual co-located signs."
The study is detailed in Transportation Research.