Researchers develop new thin-film material for color-changing road signs
Marie Donlon | August 13, 2019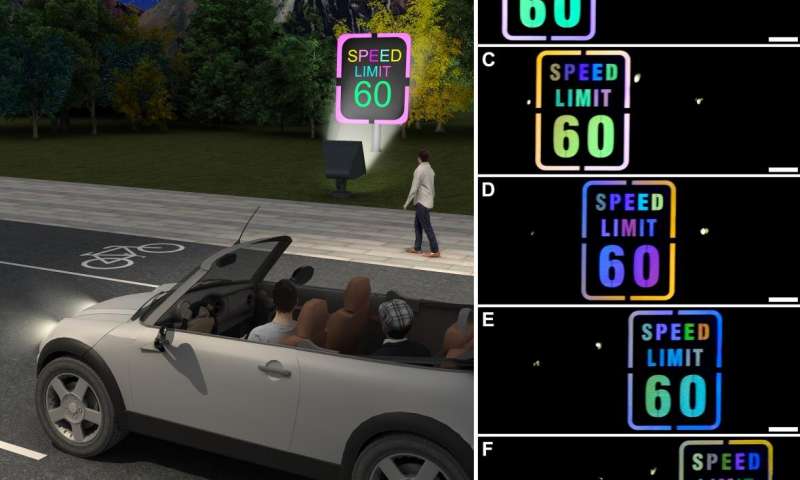 An image series shows how a new retroreflective material can be used to make a color-changing speed limit sign. Boxes A-F show how the sign changes color, from the perspective of drivers on the road, as they pass by. Source: Fan et al., Sci. Adv. 2019; 5: eaaw8755. CC BY-NCA collaboration between researchers from Fudan University in China and the University at Buffalo in New York has resulted in the development of a new thin-film material that reflects light in such a way that would call attention to important traffic signs at night.
The team of researchers believes that the film, which is composed of polymer microspheres adhered to transparent tape, could be used to potentially illuminate road signs at night by changing color while reflecting light from an approaching vehicle's headlights. According to researchers, when white light shines on the film at night, some passersby might detect a single solid color reflected back at them, whereas others might detect changing colors reflected back at them. The results are dependent upon the angle of observation and on whether or not the source of light is in motion.
To demonstrate how the film works, researchers developed a speed limit sign, making the letters and numbers on the sign out of the new film. Researchers then positioned a white light nearby to illuminate the sign. The team noted that when a fast-moving car drove past the sign, the color of the speed limit sign's characters appeared to flicker from the driver's perspective as the driver's angle of view changed.
In related testing, the team applied the film to a number of road markers lining the side of a stretch of road to define the driving lane's boundaries. Reflected light from the headlights of approaching vehicles lit up the boundary markers in bright colors. However, from the driver's perspective, the lights stayed solid while pedestrians standing on the side of the road saw the marker colors flicker in response to the approaching car and its headlights — suggesting that if a car is traveling faster, pedestrians will likely see a change in color more immediately.
"You can use this material to make smart traffic signs," explained Qiaoqiang Gan, Ph.D., an associate professor of electrical engineering in the UB School of Engineering and Applied Sciences and a co-first author of the new study. "If a person is listening to loud music or isn't paying attention while they're walking or driving, a color-changing sign can help to better alert them to the traffic situation."
The research appears in the journal Science Advances.