New Polymer Could Increase Successful Plastics Recycling
Nancy Ordman | May 25, 2017
Research led by a Cornell University researcher could increase the percentage of plastic packaging recycled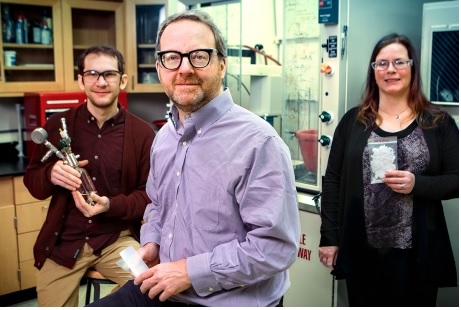 Geoffrey Coates, center, in his lab with James Eagan, a postdoctoral researcher in Coates' group and researcher Anne LaPointe. Credit: Robert Barker/Cornell University Photographyfrom the current 2 percent. Collaborating with University of Minnesota researchers, a team led by Cornell's Geoffrey Coates developed a new polymer that can turn polyethylene (PE) and polypropylene (PP) into a tough new polymer.
One limitation of PE and PP recycling is their disparate chemical structures. Until now, an efficient process for repurposing these plastics together has not existed.
The compound that makes the transformation possible is a tetrablock (four-block) polymer that the team developed. A block polymer, or co-polymer, consists of two or more polymeric blocks attached by covalent bonds. Each polymer forms "blocks," or repeated clusters, that alternate in the subsequent compound. The tetrablock created by Coates' team has four blocks, with alternating PE and PP structures.
The researchers tested different multi-block polymers used as adhesives between strips of plastic. After the strips were welded together, they were pulled apart mechanically. Diblock polymers formed a very weak bond. The tetrablock polymer was so strong that the plastic broke before the bond failed.
The strength of the new materials is the characteristic that sets this material apart from previous experiments with combining PE and PP. "People have done things like this before," Coates said, "but they'll typically put 10 percent of a soft material, so you don't get the nice plastic properties, you get something that's not quite as good as the original material."
In addition to its applicability in recycling, the tetrablock polymer could lead to new, tougher polymers. Using tougher materials could mean using less of the material, with less material left to recycle.