Drone Provides Tornado Damage Assessment in Oklahoma
S. Himmelstein | May 24, 2017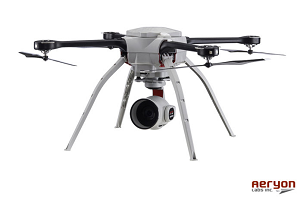 The Aeryon SkyRanger™ (Source: Aeryon) Textron Systems Unmanned Systems, a division of Textron Inc., provided support for disaster response efforts after an EF-2 tornado hit Elk City, OK, on May 16. Full-motion video was captured in real-time by small unmanned aerial system (sUAS) for the Emergency Operations Center in Oklahoma City and the National Weather Service in Norman, OK.
Textron operators and representatives from Aeryon Labs traveled to the impact site and began operations within 20 minutes after the tornado's impact. Once on-site, the team operated an Aeryon SkyRanger™ sUAS to collect more than one hour of high-definition video and georeferenced still imagery over the tornado damage. The real-time video feed was directly provided to regional emergency operations centers via the AeryonLive™ Video & Telemetry solution that streams live video, images, and aircraft telemetry from the SkyRanger sUAS across a secure bonded cellular network connection.
Textron Systems Civil & Commercial team also provides aerial solutions in oil and gas pipeline inspection and security, precision agriculture, as well as other natural disaster efforts.