Pilots Urge Stronger FAA Rules for Unmanned Aircraft Systems
Engineering360 News Desk | April 29, 2015
In comments submitted to the U.S. Federal Aviation Administration (FAA), the Air Line Pilots Association, Int'l (ALPA) outlined several key areas of recent proposed rules for the operation of small unmanned aircraft systems (sUAS) that should be enhanced to maintain the safety of the national airspace system.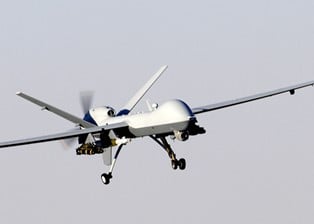 Unmanned aerial vehicle. Image Source: wikipediaThe FAA in February issued a set of proposed procedures that would regulate operations of sUAS in national airspace. The FAA proposed limiting commercial operations to daylight hours and within a visual line of sight. The rule also addresses altitude restrictions, operator certification and aircraft registration.
ALPA encourages the FAA to develop additional standards and guidance. By developing design requirements intended to ensure that suAS remain within an approved area of operation, ALPA says the FAA can help mitigate the risk of colliding with another aircraft by keeping sUAS within the defined airspace despite possible malfunction, lack of operator awareness or deliberate disregard for safety regulations.
"The regulations should be thorough and flexible enough to remain relevant as technology continues to evolve," says ALPA president Capt. Tim Canoll.
More Resources: