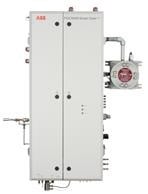 Image Credit: ABB Measurement & Analytics ABB Measurement & Analytics new PGC5009 process gas chromatograph offers fast, accurate and reproducible boiling point data. The speed and accuracy of the device allows refineries to optimize their product yield.
ABB states, "[t]he PGC5009 represents the best in process analytics for simulated distillation analysis using fast temperature programmed process chromatography. With a patented resistively heated column design and rapid cooling system, the PGC5009 provides superior chromatography. The results are proven: accurate and reproducible retention times and weight percentage measurements required for boiling point curve, calculation enabling optimized refinery process control."
ABB's Measurement & Analytics is among the world's leading manufacturers and suppliers of instrumentation and analyzers; the newest addition to their gas chromatograph product portfolio has the speed and accuracy needed for advanced process control.