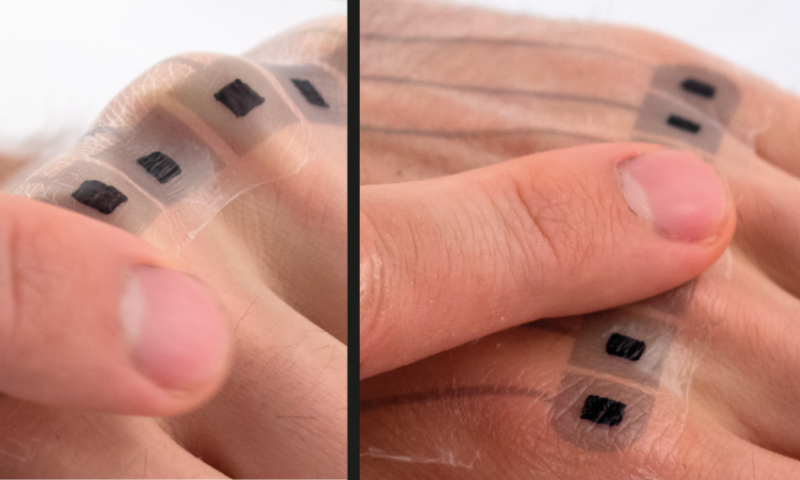 Using ultra-thin, electronic tattoos at distinctive body locations, users can control mobile devices. Image credit: Universität des SaarlandesWant to control music or lights all from the convenience of your…knuckle? Computer scientists from Saarland University and Google have developed a thin-film electronic tattoo to let you do just that. Similar to a child's temporary tattoo, the sticker can adhere to parts of the body that weren't always possible, such as bony structures.
Realizing that the body could be an excellent touch-sensitive input surface for mobile devices back in 2015, Saarbrucken computer scientists in collaboration with a team from Carnegie Mellon University developed "iSkin," a flexible silicone and conductive electronic sensor sticker for the skin. Connected to your smartphone and to a surface on the body, a user can take calls or change music volume, all with a touch of your skin. The large sticker, however, required a flat body surface, limiting where you could apply the film.
"We wanted to focus on body locations where no interaction had been possible before. But placing electronics precisely on the skin, let alone fitting them onto bony structures like the knuckles or microstructures like wrinkles, is very complicated," explains Martin Weigel, PhD student of Jürgen Steimle, professor of human-computer interaction at Saarland University. But the researchers were also convinced that this would be worthwhile for users. "When you have to press on the first knuckle of your left hand, you know very intuitively where it is. The same goes for the inside of the index finger," Weigel adds.
After searching for the right combinations of conductive inks and printing processes in order to print the conductive traces and the electrodes as compactly and thinly as possible on the temporary tattoo paper, Weigel and his team had a breakthrough: A conductive plastic named PEDOT:PSS. With PEDOT:PSS, researchers could print the tattoo to be thinner than a hair's breadth, ensuring that it would not only fit onto knuckles and wrinkles, but also flexible enough to withstand compression and stretching.
The tattoos, called SkinMarks are applied to skin with water and can come back off after a few days. During the research, the scientists needed only 30 to 60 minutes to print the tattoo. "This could even be speeded up. We are convinced that in the future, everyone will be able to make their own e-tattoo in less than a minute on a standard, commercially available printer," explains Professor Jürgen Steimle.