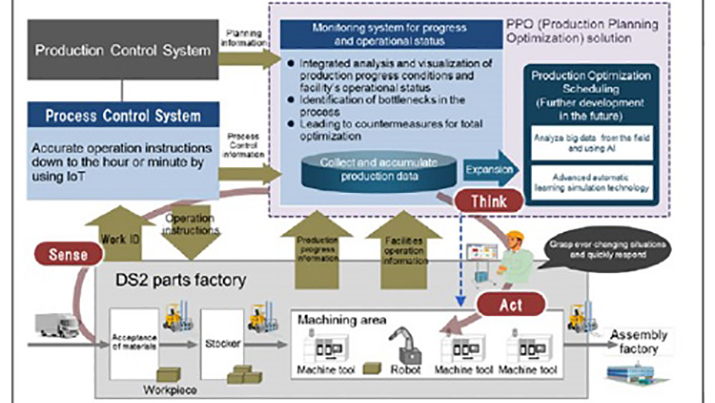 Conceptual model: Monitoring system for production progress and facility operational status. Image credit: Hitachi, Ltd.
A new collaboration between machine-tool manufacturer Okuma Corporation and Hitachi, Ltd., both headquartered in Japan, is designed to establish a high-efficiency production model that supports mass customization via the Internet of Things. The two companies will work together on the overall renovation of the next-generation manufacturing processes, from processing to assembly and services. They intend to utilize an experimental model at Dream Site 2, Okuma's new plant, to demonstrate an ability to double productivity while cutting production lead time in half.

Manufacturing industry trends, including diversification of customer needs and technology as well as intensified global competition, point to the need for mass customization that delivers productivity equivalent to that of mass production. This is the case even in ultra-high-mix, low-volume manufacturing, such as the production of machine tools—where the processing and assembly runs can encompass several thousand to several tens of thousands of components. The goal is to construct a production model capable of manufacturing "just what is needed, only when needed, only in the quantity needed."

The model is based on two main principles: evolution of production visualization and faster factory control cycle.

The first principle, evolution of production visualization, refers to the way the new system uses IoT to combine data on production progress conditions and facility operational status and carry out advanced analysis. By employing AI technology on collected data, the system is then able to automatically and dynamically adapt to changing situations in the field.

The second principle, faster factory control cycle, refers to the introduction of a recognition tag-based process control system that allows accurate tracking of the location and status of components within a plant. Using IoT, operation instructions can be provided down to the minute—interfacing with the production visualization system described above allows accurate detection of system bottlenecks and quick implementation of countermeasures.

Future developments of the production model at other Okuma sites will also be explored. Stay tuned.