AK Steel accepted an award of up to $1.8 million from the U.S. Department of Energy (DOE) under the Advanced Manufacturing Office's Next Generation Electric Machines (NGEM) program to develop non-oriented electrical steels (NOES) for motors used in a variety of industrial and automotive applications, including hybrid electric vehicles.
The three-year project will be conducted in collaboration with the DOE, Oak Ridge National Laboratory's Power Electronics and Electric Machinery Research Center, and Regal Beloit Corp., a manufacturer of electric motors and motion control products.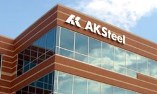 The project's goal is to develop an innovative motor design with high-alloy NOES that will achieve an efficiency improvement of more than 30% when compared to existing motor designs with NOES products.
Ohio-based AK Steel says it invented electrical steels over 100 years ago, and remains a leading producer of this highly-specialized product. These steels include both NOES for electric generators and motors, as well as grain-oriented electrical steels for power and distribution transformers.
Hybrid electric vehicles represent one of the fastest growing markets for NOES. Many of the motors used in hybrid electric vehicles being sold in the U.S. are imported.
AK Steel produces flat-rolled carbon, stainless and electrical steel products, and carbon and stainless tubular products, primarily for automotive, infrastructure and manufacturing, electrical power generation, and distribution markets.
The company is headquartered in West Chester, Ohio (greater Cincinnati), and operates eight steel plants, two coke plants, and two tube manufacturing plants across six states (Indiana, Kentucky, Michigan, Ohio, Pennsylvania and West Virginia) and one tube plant in Mexico.
The company's heritage spans more than 118 years, beginning in 1899 when the company's predecessor, Armco, was incorporated in Middletown, Ohio.