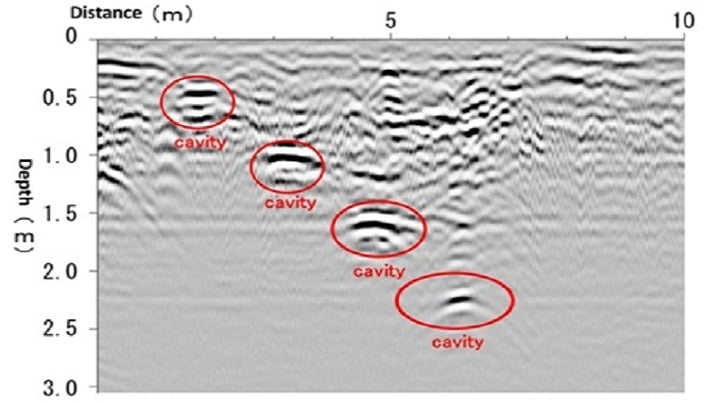 Example of image data collected from underground radar probe equipment. Source: FujitsuApproximately 3,300 sinkhole collapse incidents happen annually in Japan, primarily because of aging sewer pipes. That problem is being addressed by Kawasaki Geological Engineering Co., Ltd., which is leveraging Fujitsu's artificial intelligence engine to develop subsurface cavity survey technology. The technology will be made available as a service beginning in the summer of 2017.

Previous survey techniques required expert technicians to make visual determinations, and were limited by radar probe equipment with a range of about one meter – too shallow to survey the sewer pipes often located about three meters underground. Kawasaki Geological Engineering developed equipment able to survey about five meters deep, but this presented a new problem: the huge volume of collected data was overwhelming for technicians to evaluate.

Enter Fujitsu's Zinrai Deep Learning platform service, launched in April 2017. Zinrai is Fujitsu's AI technology brand, named for the Japanese phrase "shippu-zinrai," or "fast as lightning," that the company announced in November 2015. The following year, Fujitsu announced that it would incrementally roll out five Zinrai-related services, including Zinrai Deep Learning.

The technology allows efficient analysis and processing of a huge volume of radar images, and can be trained to tell cavities from sewer pipes through machine learning on radar reflection waveform images. A trial showed that analysis was possible in one-tenth of the time needed by technicians relying on visual evaluation.

Connecting the technology to maps provided by Fujitsu Traffic & Road Data Service further enhances understanding of the data, underscoring the need for road repairs to local governments.

Moving forward, Kawasaki Geological Engineering will continue to shrink and lighten its underground radar probe equipment, moving toward more efficient road maintenance management through broad automation of measurement tasks. The company also plans to expand its subsurface cavity identification technology beyond Japan, to help prevent incidents of road collapse around the globe.