The Importance of Subsurface Utility Mapping Technology
Shawn Martin | December 15, 2017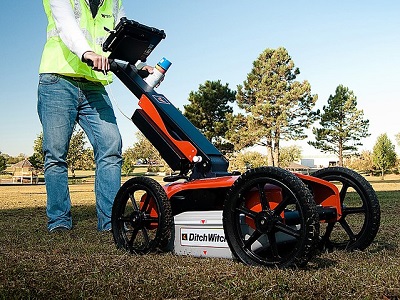 Source: The Charles Machine Works | CC-BY-SA-2.0Government agencies like Dig Safely New York Inc. and its Before Your Dig Call 811 program help protect public utilities, but in some cases, their maps are either inaccurate or incomplete.
Private utilities further complicate matters as they account for almost 65 percent of all buried utilities in the United States and there is no standard protocol to safeguard those assets. In order to protect subsurface infrastructure and prevent incidental injury, death or property damage, it is highly advantageous to invest in subsurface utility mapping (SUM) technology prior to breaking ground.
Modern SUM tools include ground penetrating radar, electromagnetic induction and RFID technology. Historical trends have showcased the importance of SUM, but which technology prevails in preventing the destruction of underground infrastructure and which is best when it comes to potential long-term savings?
Ground Penetrating Radar (GPR)
GPR is a non-destructive, scanning, subsurface imaging technology. Electromagnetic (EM) waves are emitted in the MHz and GHz frequency range. The emitted signal is highly directional and observes minimal interference from overlying structures. The return signal provides valuable insight into underlying assets by producing detailed subsurface images.
GPR surveys can locate metallic as well as non-metallic utilities. It is the most widely used SUM method and provides for fast data acquisition, higher resolution imagery and lower operation cost. It is, however, a timely process when surveying highly congested areas. Other factors affecting accuracy and penetration depth include soil moisture content and oblique measurements. In a best-case scenario, penetration depth is limited to two meters. GPR surveys are also incapable of delineating the type of utility present.
Electromagnetic Induction (EMI)
EMI instruments are typically deployed along with a differential GPS providing for rapid subsurface mapping. Several methods exist for taking EMI surveys. In each case, an electrical current supplied by a transmitter is used to induce a primary magnetic field. The receiver is set to the same frequency to observe deflections of the magnetic field and locate subsurface utilities. EMI is, however, known to be affected by overlying metallic objects.
EMI is an alternative SUM technology to GPR. It is predominantly used when the effectiveness of GPR is limited either by penetration depth or when dealing with high moisture content soils such as areas with large silt or clay deposits. EMI is only capable of locating metallic objects, but it can survey an area approximately five times faster than GPR. It provides an efficient means of surveying large areas when you are only conserved with metallic objects and when there is limited electromagnetic interference.
Radio Frequency Identification (RFID)
RFID technology offers a cost-effective means of SUM and is set to gain market share. Whenever new utility lines are installed or when older assets are uncovered through conventional means, such as vacuum excavations, RFID transponders can accurately identify their location as well as delineate the type of utility present.
Product and service providers like Berntsen International Inc. offer a complete asset management solution inclusive of field-writeable tags, iOS- and Android-based apps and geographic information systems (GISs) software. Their InfraMarker® Connected RFID Infrastructure Marking System enables users to mark, locate and manage assets with a high degree of precision.
Users are able to record valuable field data inclusive of video, photos and documents. The tags deployed also include magnetic locators allowing users to accurately locate and identify underground assets when an RFID transponder isn't present without the costs of a detailed survey.
Conclusion
Conventional wisdom suggests an ounce of prevention is worth a pound of cure. Due diligence begins with the use of local governing authorities and calling 811 before you dig. In highly congested areas, not knowing if public utilities are present is simply inadequate.
SUM and subsurface utility engineering allow users to avoid construction delays and the unnecessary relocation of underground utilities. The cost and accuracy of the survey are dependent on the nature of the environment and the only method proven to provide the precise location of underground assets with substantial long-term savings is through the use of RFID technology.
Resources:
Utility Company Uses RFID to Identify Underground Pipes, Wires