The Airlander 10 has resumed flight testing, staying aloft for a total of 180 minutes on May 10. The event marked resumption of the flight test program of the world's largest aircraft following a heavy landing in August 2016. During each test phase, the Airlander will perform more tasks and be permitted to fly farther away from its base at Royal Air Force Cardington, Bedfordshire, England.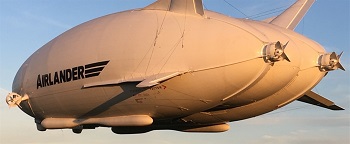 The Airlander 10 has resumed flight testing. Image credit: Hybrid Air Vehicles Ltd.
The Airlander has now flown three times in addition to a successful flight as HAV-304 during the U.S. Army's Long Endurance Multi-Intelligence Vehicle program in 2012. Recent modifications include a new, more powerful and more maneuverable Mobile Mooring Mast (MMM) and the additional "landing feet" of the Auxiliary Landing System (ALS).
Test objectives successfully achieved during the flight include:
Conducting a full test flight—complete a safe take-off, flight and landing of the aircraft.
Establishing basic handling characteristics of Airlander within a well-defined flight envelope, including assessment of the new ALS.
Collecting flight performance data, such as handling, airspeed and all vehicle systems, for post-flight analysis. (This increases the understanding of the aircraft's performance, capabilities and operating envelope.)
The design combines characteristics of fixed-wing aircraft with lighter-than-air technology to create a new breed of hyper-efficient aircraft. It can stay airborne for up to five days at a time to perform a range of communication and survey roles, and to carry cargo and passengers. Additional Airlander 10 specifications:
44,100 lbs (20,000 kg): The mass of the airship
20,000 ft. (6,100 m): The altitude it can reach
80 knots (148 km/h): Maximum speed
22,050 lbs (10,000 kg): Total payload