NuScale Commissions Second SMR Simulator
S. Himmelstein | May 11, 2017
NuScale Power has commissioned a second small modular reactor (SMR) control room simulator to model the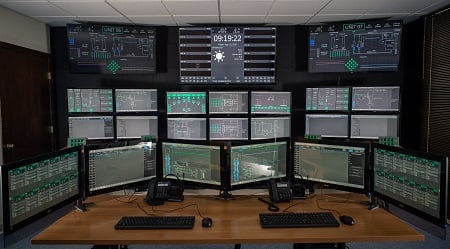 NuScale's second control room simulator for a multi-module small reactor power plant was commissioned at its Richland, WA office. (Source: NuScale Power)operation of its nuclear power plant design. The Portland, OR-headquartered company said the new simulator will be used to develop plant operating procedures and training material as well as a training platform for future nuclear plant operators at a NuScale power plant.
The Richland, WA-based simulator serves as a virtual nuclear power plant control room with work stations to simulate the operation of a NuScale SMR module, turbine generator, and support systems used to generate electricity.
In March, the U.S. Nuclear Regulatory Commission accepted NuScale's design certification application for the design of its SMR and for a power plant containing 12 NuScale modules capable of a total facility output of 600 MWe. The first commercial NuScale power plant is planned for construction on the site of the Idaho National Laboratory for Utah Associated Municipal Power Systems and operated by Energy Northwest.
The NuScale Power Module is an integral reactor vessel surrounded by a high-pressure steel containment, which when coupled to its factory fabricated power generation equipment can produce 50 Mw of electricity.