NuScale Power's Small Modular Nuclear Reactor First to Complete NRC Phase 1 Review
Engineering360 News Desk | April 30, 2018
The U.S. Nuclear Regulatory Commission (NRC) has completed the first and most intensive phase of review for NuScale Power's design certification application (DCA). NuScale is the first and only small modular reactor (SMR) application to ever undergo NRC review. This major achievement brings NuScale Power closer to introducing the country's first SMR to market, putting the U.S. on a path to beat foreign competitors like Russia and China at a global SMR race.
The NRC is expected to certify NuScale's design, and the company's first customer, Utah Associated Municipal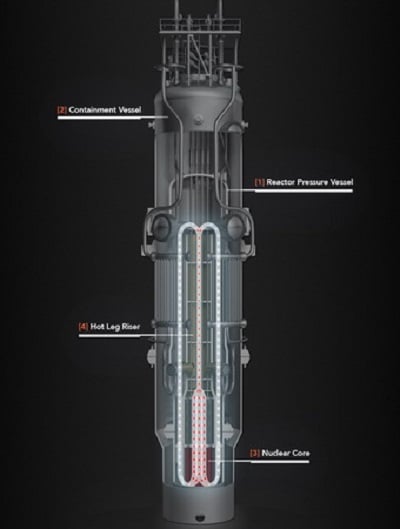 Schematic of the reactor. Source: NuScale PowerPower Systems, is planning a 12-module SMR plant in Idaho slated for operation by the mid-2020s based on this certified design.
During the 115,000 hours the NRC spent reviewing the DCA, it issued far fewer requests for additional information compared to other design certification applications, demonstrating the simplicity of the design and quality of the application.
Additionally, in a sign of continued support, the U.S. Department of Energy's Office of Nuclear Energy has awarded NuScale $40 million in cost-sharing financial assistance under its "U.S. Industry Opportunities for Advanced Nuclear Technology Development" funding opportunity. The federal award supports early-stage research and development and the industry's acceleration of these technologies to promote U.S. energy independence, energy dominance, electricity grid resiliency, national security and clean baseload power.
The NuScale SMR is an advanced light-water reactor wherein each NuScale Power ModuleTM is a self-contained unit that operates independently within a multi-module configuration. Up to 12 modules are monitored and operated from a single control room.