Watch an electric autonomous cargo ship set sail
S. Himmelstein | November 23, 2021
Without emissions and soon to be without a crew, the world's first electric and self-propelled container ship has completed its maiden voyage. The 70 km (43 mile) trip from Horten to Oslo, Norway, showcased the Yara Birkeland, a joint venture between chemical production firm Yara and maritime technology company Kongsberg.
The all-electric and autonomous container ship is expected to ferry chemicals and fertilizer from Yara's production plant in Prosgrunn to nearby towns. According to the company, operation of the vessel will reduce carbon dioxide emissions by 1,000 tons and replace 40,000 trips by diesel-powered trucks annually.
[See also: Building the first autonomous, zero emissions container ship]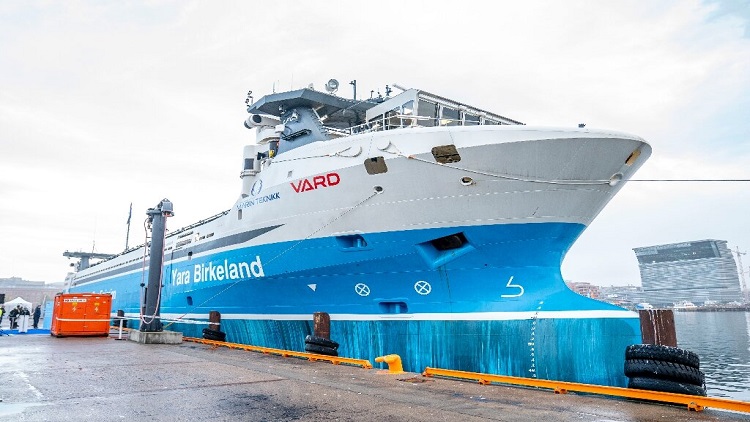 The world's first fully electric and soon to be autonomous container vessel with zero emissions. Source: Yara
The 80 m-long Yara Birkeland is powered by a 6.8 MWh battery pack and can carry up to 3,200 tons at a maximum speed of 15 knots (28 km/h, 17 mph). The 3,200-deadweight ton ship will soon begin two years of working trials during which it will be fine-tuned to learn to maneuver autonomously.