Engineering students at Rice University have developed a system than can detect and possibly prevent epileptic seizures. The research team, which calls itself Ictal Inhibitors, recently took top honors and won a $5,000 prize in Rice's Engineering Design Showcase.
The students first developed a machine-learning algorithm to predict seizures before they occur. The algorithm successfully predicted seizures at least two minutes before their onset, with 3.9 false positives per hour. The students then transferred the algorithm to custom hardware running on patient data to predict seizures.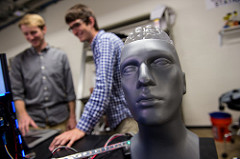 Image credit: Rice University Public Affairs"The first stage of our system is to record neural activity from the brain," said Sarah Hooper, an undergraduate engineering major on the project. "That activity is then sent to our piece of hardware, which has the algorithm that produces a seizure prediction. Using the electrical signals that are produced in the brain, we can predict if a seizure is going to occur in the next five minutes or so."
Hooper went on to say that if a seizure was about to occur, the system would communicate back to electrodes planted in the brain to apply electrical neurostimulation to prevent the seizure from occurring.
Epilepsy is one of the most common neurological diseases in the world, affecting around 3 percent of the population by age 75. Up to 40 percent of epilepsy cases are intractable, meaning they do not respond to medication. Patients with intractable epilepsy often resort to risky surgeries involving the removal of parts of the brain that cause seizures. While the Ictal Inhibitors believe their system is at least 5 to 7 years from clinical trials, the project holds promise for the millions of patients with treatment-resistant seizures.