Compressors Cut Energy Costs for Large Manufacturing Facilities
S. Himmelstein | April 25, 2017
Ingersoll Rand has introduced new models to its line of its R-Series oil-flooded rotary screw air compressors, designed to provide a more energy-efficient solution for customers with high capacity air requirements.

The RS200 to RS250 models are available with the new, state-of-the-art single-stage airend, or the two-stage airend that increases airflow by up to 16 percent. New fixed-speed models are 10 percent more efficient compared to legacy products, claims the company, while the variable speed option is up to 35 percent more efficient compared to the industry average.
Ingersoll Rand has added these models to the next generation R-Series portfolio so that customers who run 24/7 and rely on large amounts of compressed air have equipment that is as reliable as their demand. According to internal testing, efficiency and design improvements on some of the high capacity compressors deliver up to a €40,000 ($43,734 USD) energy cost savings per compressor over a two-year period compared to previous models.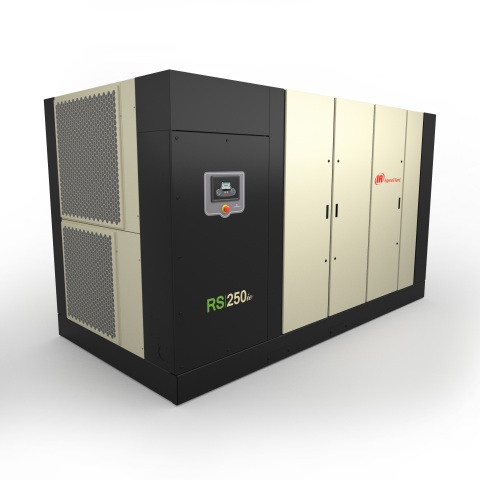 Source: Business Wire
Each next generation R-Series compressor incorporates an airend specifically designed to improve overall system efficiency. In addition, the RS200 to RS250 models are also available with the new two-stage airend, the most efficient available. The compressors also feature Progressive Adaptive Control (PAC) Protection, V-ShieldTM technology, floating coolers, and Ultra EL Lubricant. to help keep equipment running efficiently and maximize uptime for facilities that are manufacturing around the clock.
PAC Protection monitors key performance parameters for when consumable parts are nearing the end of their life, or if operating temperatures are reaching design limits. In these situations, the controls adjust the parameters to keep the machine running without overloading the motor, preventing unnecessary shutdown.
V-Shield technology safeguards all critical fittings by securing them with o-ring face seals in a method that is largely free from distortion. Leaks are virtually eliminated, meaning performance isn't sacrificed, regardless of how many reconnections are made.
The floating cooling system contains heat exchangers with finger-tight connections so they can expand and contract as needed. This new design improves overall system reliability, because welded connections reduce the ability for heat exchangers to expand and contract, which is the number one reason they fail.
Ultra EL is formulated to last up to 16,000 hours, which is twice as long as other rotary lubricants. Ultra EL keeps compressors running at peak performance, minimizing downtime and lowering lifecycle costs.