Air Compressor Improvements Boost Efficiency by 18%
Engineering360 News Desk | April 07, 2016
A set of oil-flooded, rotary-screw air compressors supplies up to 18% efficiency improvement over previous models. The Next Generation R-Series from Ingersoll Rand includes an airend design that delivers up to 15% more airflow, which the manufacturer says creates more reliable air supply to reduce downtime.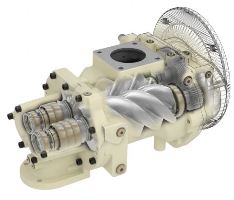 The compressor's airend is designed for 10 years of operation. Image source: Ingersoll Rand.The analytics-modeled airflow and piping system provides a low pressure drop and minimizes sound output, while a revised bearing arrangement reduces resistance. The drive motor's induction design meets IE3 energy-efficiency standards.
Progressive Adaptive Control software monitors critical performance parameters and automatically adjusts output to ensure continued operation without damaging the system. Intelligent controllers allow users to receive information on compressor performance and events by email, adjust compressor settings remotely and program compressors according to specific events through real-time clock schedules. The adaptive controls also provide built-in performance analysis for a variety of load requirements.