The California Department of Water Resources (DWR) awarded a contract April 17 to Kiewit Infrastructure West Co., for repair work on Oroville Dam's spillways.
Repairs are scheduled to begin immediately to have the system operational by November 1, the traditional start of the winter rainy season.
Kiewit's bid of $275,443,850 was the lowest responsive bid.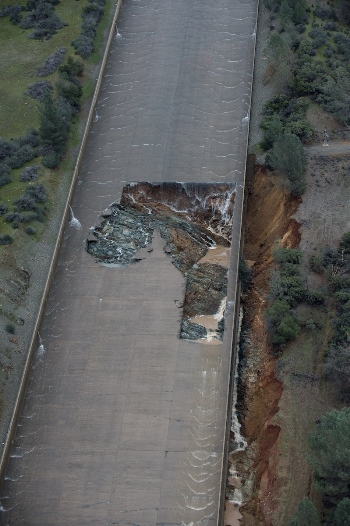 Photo from February shows spillway crater and nearby erosion.DWR also provided a corrected Engineer's Estimate of $231,715,373 for the work, after finding an error in the original estimate of $220,100,000.
(Read "Highest Dam in the U.S. Faces Threat.")
DWR says it is implementing its recovery plan to ensure the system can safely accommodate potentially heavy inflows from the Feather River watershed to Lake Oroville and subsequent releases from the lake.
DWR says the complete recovery or replacement of the spillways will be done in multiple phases due to "the enormity of the project and the time limitations of the construction season." Work has already started on portions of the "no regrets" work like road construction and slope stabilization in and around future work areas which needs to be completed regardless of the spillway recovery design decisions.
The Sacramento Bee newspaper says the repair plan calls for filling in craters in the main spillway, which fractured Feb. 7, with fast-drying concrete but leaving a chasm in the adjoining hillside untouched. The chasm could be used to handle excessive outflows of water during the next rainy season, but would be filled in during summer 2018, the newspaper said.
The contractor would also partially line the nearby emergency spillway with concrete; the structure currently consists of a concrete lip atop an unlined hillside.
Still unclear is who will pay for the repairs, the newspaper said. The state owns Oroville Dam but it is operated largely as a storage facility for State Water Project contractors. Generally those contractors pay for upkeep of SWP facilities.
Also unknown is whether the federal government will contribute to the repairs. The Trump administration has approved $274 million in recovery aid for Oroville. That money is expected to cover preliminary repair and other costs, and is expected to run out in May.
DWR announced the bids April 15. The three bidders and their amounts were:
• Kiewit Infrastructure West Co. (Calif.): $275,443,850
• Barnard Ames JV (Montana): $276,965,690
• Oroville Dam Constructors (Calif.): $344,129,100
Details of the three bids were not be made public, DWR says, because they contain design information that is considered Critical Energy/Electric Infrastructure Information by federal regulators and could cause a security risk if released.