A concept for the next-generation transport of cargo by rail—NGT CARGO—is proposed by German Aerospace Center (Deutsches Zentrum für Luft- und Raumfahrt; DLR) researchers to broaden the market share of European rail freight. Combining a high level of automation, intelligent handling and high speeds should render rail freight transportation more flexible and increase system capacity.
The design calls for single wagons and powerful end cars to be automatically coupled together as required. As the transportation of small-scale shipments in particular will increase significantly in the future, the scientists are focusing on fast, reliable freight transport.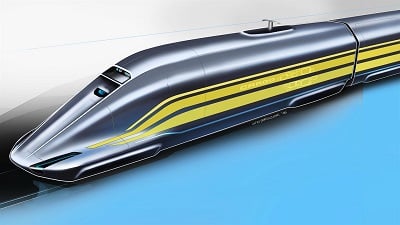 The NGT CARGO concept is designed to increase the attractiveness of rail freight transport. Image credit: DLR
The scheme will enable freight transport with low use of resources, minimal deployment of personnel and short transport times. Currently, an elaborate process using rigid operating procedures underlies single wagon transport. Coupling and uncoupling wagons, picking them up and delivering them is very time- and resource-intensive and account for 30-40 percent of overall costs. Manual coupling processes lead to long idle periods for individual wagons and an average system speed of just 18 km per hour for single-wagon transport. A lead time of approximately five days is required to make the personnel, material and routes available.
Intelligent freight wagons in the NGT CARGO concept have a separate drive based on electric motors and a battery that stores energy recovered during braking. Single wagons shunt autonomously, without the need for staff, locomotives or overhead lines. Each wagon is equipped with sensors that enable travel of the final kilometers to the respective customer automatically and autonomously. The wagons can also be driven directly into ports, transshipment stations or logistics terminals, right up to the high level racks, where they are also then loaded or unloaded automatically.
For operation at high speeds, the NGT CARGO single wagons form a unit and are combined with one or two end cars, which provide the necessary drive. With the appropriate infrastructure, up to 400 km per hour is conceivable. Speeds of up to 160 or 200 km per hour are attainable on existing lines. Intercontinental freight traffic between Europe and Asia is envisioned as an alternative to container ships that have long sea routes and little flexibility in terms of freight volume.
Multiple locomotives can be combined virtually during travel (called dynamic coupling). Combination with the NGT HST high-speed passenger train is also possible and could result in combining passenger and goods transportation for optimized use of existing line capacities.