A modular system engineered at Southwest Research Institute (SwRI) brings portability and improved environmental performance to chemical warfare agent destruction operations.
The unit is housed in a large shipping container for easy transport and includes one wet and one dry pollution abatement configuration that can be deployed depending on the available resources of the location.
The dry pollution control process, ideal for arid or remote regions, is designed for use with SwRI's Dedicated EGR® engine thermal destruction device developed for the U.S. Defense Advanced Research Projects Agency's Agnostic Compact Demilitarization of Chemical (ACDC) Agents program. Once the chemicals are destroyed, exhaust gases pass through the SwRI soil-based fluidized bed where combusted byproducts are captured. The used soil remains non-hazardous.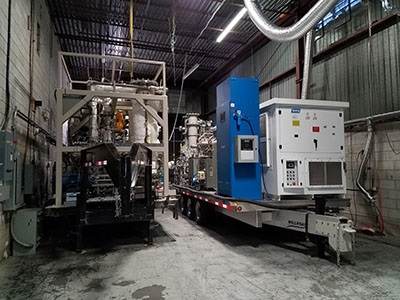 The mobile treatment unit (left) designed to destroy chemical agents and remove combustion byproducts. Source: Southwest Research Institute
The wet pollution control system, developed by a Canadian company for its stand-alone plasma torch treatment device, includes a liquid scrubber system. Using local soil eliminates the significant logistical burden of providing water to remote sites and transporting liquid waste to a treatment facility.
The performance of both scrubber units was independently verified and validated in recent tests performed in Canada. When the dry soil-based scrubber was interfaced with the Canadian company's plasma torch front end, the system demonstrated a more than 99.9999 percent destruction of simulated chemical warfare agents and effective scrubbing of acid gases.
The systems will be tested this summer with authentic chemical agents, in both the liquid-scrubber and soil-scrubber configurations.