Team develops nanomaterial fabric for destroying toxic nerve agents
Marie Donlon | January 10, 2020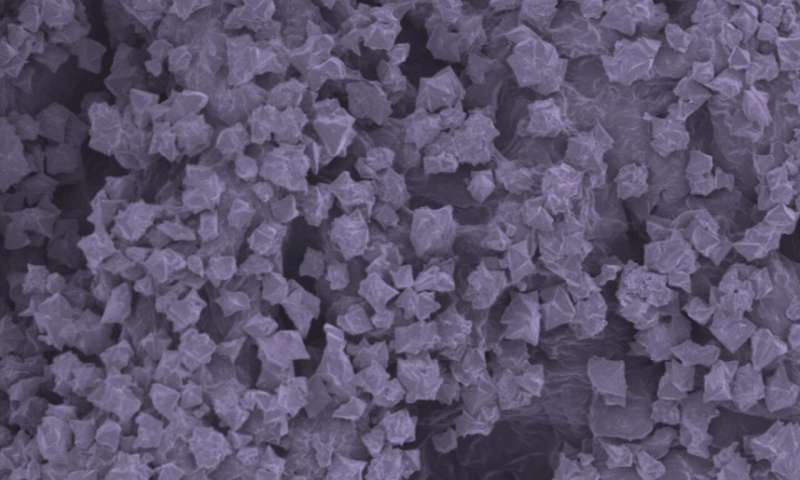 Composites made from metal-organic frameworks can destroy nerve agents under relevant conditions. Source: Journal of the American Chemical SocietyResearchers from Northwestern University have developed a composite material that can destroy toxic nerve agents, making it appropriate to integrate into fabrics worn by those with the potential for exposure to chemical warfare.
To develop the material, researchers combined textile fibers with a zirconium-based metal-organic framework (MOF), which is a nanomaterial that can degrade toxic chemical agents like VX and soman (GD) (which are more toxic versions of sarin) in just minutes due to their construction.
MOFs are lattice-like crystals with metal nodes. Organic molecules link the nodes, creating spacious pores that can capture vapors and gases such as nerve agents. The MOF pores can also absorb water from humidity in the atmosphere to trigger a chemical reaction where water effectively destroys the nerve agents' bonds.
Incorporated onto textile fibers, the MOF and non-polymeric bases detoxified the nerve agents under simulated battlefield conditions, thereby making them potentially ideal for defense-related use cases, according to the team. Likewise, the material also withstood prolonged exposure to sweat, pollutants, atmospheric carbon dioxide and other degrading conditions.
Such a development could result in an alternative for the activated carbon and metal-oxide blends commonly used for such applications but that have proven slow to respond to nerve agents.
The study, "Integration of Metal-Organic Frameworks on Protective Layers for Destruction of Nerve Agents under Relevant Conditions," appears in the Journal of the American Chemical Society.