On April 21, 2010, the oil rig Deepwater Horizon exploded. To contain the oil, operators worked to funnel the leaking oil into a pipe to carry to a tanker ship, preventing ongoing leakage. It didn't work, creating a massive disaster considered to be the worst oil spill in history.
The problem resided in a mixture of frozen water and methane — called methane clathrate — that forms into an icy slush as a result of low temperatures and high pressure near the seafloor. This ice built up inside the containment dome allowing the outlet pipe to get blocked.
Researchers at MIT have developed a solution that might prevent future spills from becoming disastrous. The method involves preventing the icy buildup by coating the inside of the pipe with a layer that promotes spreading of a water-barrier. This barrier layer can prevent the adhesion of any ice particles or water droplets to the wall, effectively repealing the buildup of clathrates that could slow or block flow.
The development could also lead to prevention of oil and gas pipeline blockages that can be costly to clear or even rupture in the event of a buildup in pressure.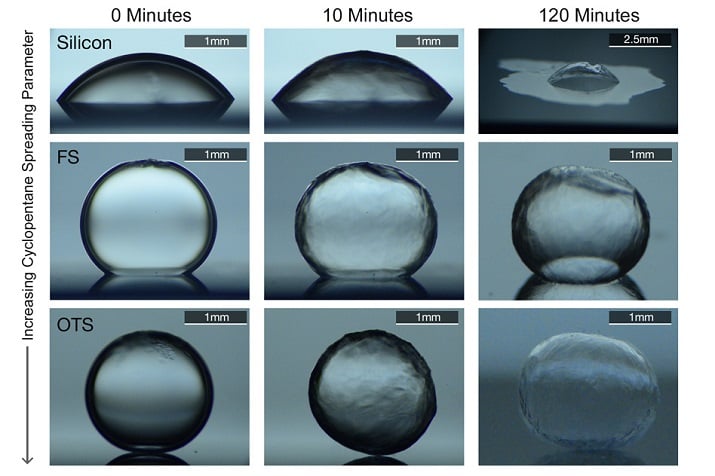 The surface coating causes water to bead up on the inner surface of the pipeline rather than spreading out, preventing the formation of ice that could clog in an oil pipeline. Source: MIT MIT says the method is a passive solution that is not expensive or polluting to the environment, as once in place, no further addition of energy or materials is needed. The coated surface attracts liquid hydrocarbons already present in flowing petroleum, creating a thin surface layer that repeals water — preventing ice from ever attaching to the wall in the first place.
Researchers say current methods for preventing clathrate buildup are expensive, running in the hundreds of millions of dollars range every year. However, without preventive measures, hydrates can build up so they reduce flow rate or create blockages that result in catastrophic failure — creating problems for the industry and the environment
MIT believes this methane clathrate problem could be a greater concern when it comes to methane hydrates, which are abundant in many locations such as continental shelves, and are seen as a new potential fuel source. Such deposits are even more vulnerable to freezing or clogging due to clathrate buildup in the pipes.
MIT's method is similar to an approach that is used for containers to prevent contents from sticking to container walls. That system involves two steps: Creating a textured coating on the container walls and adding a lubricant that gets trapped by the texture and prevents contents from sticking.
Instead of applying a lubricant in the MIT pipeline system, the method uses the liquid hydrocarbons in petroleum. As long as the water can be kept away from the pipe wall, clathrate buildup can be stopped and chemical affinity allows the petroleum to coat the surface of the pipeline, keeping water away.