New Starch Improves Plastic Biodegradability
Nancy Ordman | April 11, 2017
A new starch-based film increases both biodegradability and water resistance for paper and other materials. The film is bio-based and non-toxic, giving it potential for use in food packaging.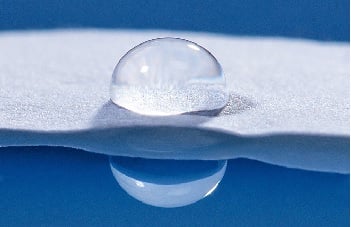 A new ARS-developed, starch-based coating makes paper water-resistant. Credit: Peggy Greb, D3774-1Some existing biodegradable plastics incorporate starch, but these materials lack qualities, such as strength and flexibility, that would make the useful for additional applications. A team with the US Agricultural Research Service (ARS) developed a method for blending polyvinyl alcohol (PVOH), a common component of films, with starch complexes to make the resulting film more biodegradable.
The researchers prepared starch complexes from high-amylose corn starch and fatty amine salts, which can be derived from soybean oil. According to team member George Fanta, "Our complexes can be blended with PVOH in large amounts to make films with good physical properties and increased elasticity. They are also more resistant to water penetration than films prepared from pure PVOH."
A solution of the starch complexes can be applied to paper, increasing water resistance. The film causes water to bead up on the paper's surface, where it often evaporates before it has a chance to penetrate.
ARS has filed a patent application covering the new paper-related technology, which is ideal for small papermaking companies and can be readily commercialized. The paper-treating process is inexpensive.