Fighter Jet Flies on 100 Percent Biofuel
S. Himmelstein | April 08, 2017
A Saab Gripen D fighter has completed a series of test flights with 100 percent biofuel, demonstrating that the single-engine jet can be flown entirely with an alternative fuel. The flights were conducted at Saab's facilities in Linköping, Sweden, using Catalytic Hydrothermal Conversion Jet fuel (CHCJ-5) derived from rapeseed oil.
CHC fuels are produced using a catalytic hydrothermolysis process that chemically converts renewable feedstocks such as triglycerides, plant oils and fatty acids into a mixture of paraffins, cycloparaffins, aromatics, olefins and organic acids. This is followed by hydroprocessing and fractionation to yield a kerosene (or diesel) product with a distillation profile comparable to traditional petroleum-derived fuels.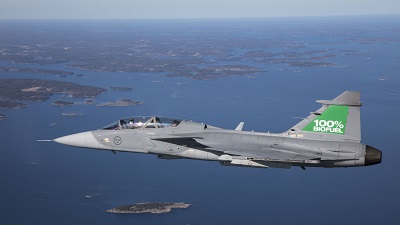 Saab's Gripen has completed initial test flights with 100 percent biofuel. Image credit: Saab
According to Göran Bengtsson, Director of Research and Technology, Future Business, Aeronautics, "The test team noted no differences between the biofuel and the ordinary jet fuel, which means that biofuel can be used as a fully satisfactory alternative to ordinary jet fuel in Gripen. Flying with biofuel in operational service with Gripen requires, however, further certification of the fuel and access to fuel in the amounts that correspond to operational needs."
The Swedish Defence Materiel Administration and GKN Aerospace, which produces the engine (RM12) for the Gripen C/D, participated in the project. The U.S. Navy—which is also evaluating CHC fuels for inclusion in the JP-5 spec—and the U.S. Air Force contributed with valuable knowledge and experience regarding certification of biofuel.