Steam Turbine Control Made Easy
S. Himmelstein | April 05, 2017
A compact steam turbine controller based on Voith's TurCon DTc offers safety, reliability and simplified integration benefits. Pre-engineered with standard software, the turbine controller can be used on mechanical driven machines or generators.
The controller includes an intuitive 7" TFT-LCD touchscreen control panel with integrated CPU and a remote I/O unit. The controller can be integrated into existing Industry 4.0 environments via a standardized Ethernet interface with Modbus TCP or OPC. An optional control panel or PC can be connected via the LAN interface, for example as part of a commissioning process or remote monitoring scenario.

The scheme can simultaneously control a maximum of 4 HP and 2 LP control valves, eliminating the need to adjust the valves mechanically using a camshaft or via a separate valve coordinator (split range).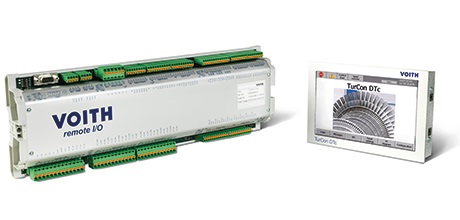 The TurCon DTc consists of an intuitive touchscreen control panel with integrated CPU and a remote I/O unit.
Three frequency inputs with a 2-out-of-3 voting for the speed sensors improve reliability and availability. The fault-tolerant speed measuring equipment offers high reliability and availability. An integrated simulation mode allows commissioning personnel to check whether parameter settings are correct and improve them if necessary prior to hot commissioning. This minimizes the risk of damage due to incorrect parameters.

The TurCon DTc archives the last 1,000 status, warning, and alarm messages with a time stamp, allowing process flows and malfunctions to be easily identified and traced. This feature provides scope for fast, targeted optimizations.