PetroChem Load Growth Spurs Transmission Spend
David Wagman | April 04, 2017
CenterPoint Energy plans to spend $250 million to enhance electric transmission infrastructure to meet what it calls "unprecedented load growth" of the petrochemical industry in Freeport, Texas.
The utility submitted a proposal April 3 to the Electric Reliability Council of Texas (ERCOT) to enhance existing, and build new, electric transmission infrastructure.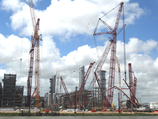 2014 image of construction work for Dow propylene PDH facility in Freeport, TX.The load growth includes new demand expected to total some 1,340 megawatts, which is planned to go into service between 2017 and 2019. The transmission projects include enhancements to two existing substations and construction of a new 345 kilovolt double-circuit transmission line. The utility expects to have the transmission updates complete by summer 2019. The proposed new transmission line is expected to be in service in 2021.
Freeport is on the Gulf of Mexico around 60 miles south of Houston.
Load Growth
The Dow Chemical Co.'s Freeport site is the area's largest employers and ranks among the largest integrated chemical manufacturing complex in the Western Hemisphere. The site employs more than 7,000 people and has 65 manufacturing units. The site produces around 44% of Dow's products sold in the United States and 20% of the products it sells globally. Work is under way by Dow to build a propylene plant and expand an existing ethylene cracker at the site.
In addition, a company partially owned by Dow is building a petrochemical plant to produce monoethylene glycol that is used to make polyester, resins, fibers and liquids like antifreeze. The plant is expected to enter service in 2019 and could cost in excess of $1 billion to build.
Another big employer, BASF Freeport, was founded in 1958 as BASF's first manufacturing site outside Europe. The Freeport site produces 24 different products in 25 plants.
In July 2015, the company broke ground on an ammonia plant, a partnership between BASF and Yara International. With an expected capacity of 750,000 metric tons per year, the plant will provide ammonia for the production of caprolactam, an ingredient in manufacturing nylons for carpet, textiles, film, monofilaments, wire and cable. Production is expected to start in 2017.