Liquid Polymer Solidifies into a Ceramic
S. Himmelstein | March 31, 2017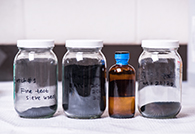 These jars show variations of the liquid polymer that looks like water and has the same density and viscosity as water. Image credit: Gurpreet Singh/Kansas State University
A recently patented liquid polymer from a Kansas State University engineer transforms into a ceramic with valuable thermal, optical and electronic properties. The clear polymer looks like water and has the same density and viscosity as water, unlike some other silicon- and boron-containing polymers.
Composed of silicon, boron, carbon, nitrogen and hydrogen, the material offers scope for ceramic textiles, improved jet engine blades, 3-D printed ceramics and better batteries. A liquid is maintained at room temperature; upon heating the polymer transitions into a solid, glasslike ceramic.
The preceramic has a longer shelf life than other SiBNC polymers and can also be mass-produced. The ceramic derived from this polymer can survive extreme temperatures as high as approximately 1,700° C (3,092° F). Yet the ceramic has a mass density three to six times lower than that of other ultra-high-temperature ceramics, such as zirconium boride and hafnium carbide.
The researchers cite several important properties of the preceramic:

• The polymer can make ceramic fibers. If the polymer is heated to approximately 50° C to 100° C, it becomes a gel similar to syrup or honey. During this gel state, the polymer can be pulled into strings or fibers to create ceramic textiles or ceramic mesh.

• The liquid polymer has processing flexibility. It can be poured into molds and heated to accurately make complex ceramic shapes.

• Because the polymer is a liquid, it is sprayable or can be used as a paint to make ceramic coatings. The ceramic can protect materials underneath or can create more efficient machinery that works in high-temperature environments, such as steam turbines or jet engine blades. The polymer also may be used for 3-D printing of ceramic parts using a benchtop SLA printer.
• When combined with carbon nanotubes, the polymer has even more applications. It can create a black material that can absorb all light—even ultraviolet and infrared light—without being damaged. The combined nanomaterial can withstand extreme heat of 15,000 W/cm2, which is about 10 times more heat than a rocket nozzle.

• The polymer could be used to produce ceramic with tunable electrical conductivity ranging from insulator or semiconductor.

• The presence of silicon and graphene-like carbon in the ceramic can improve electrodes for lithium-ion batteries.