California Air Board Adopts Methane Emission Rule
David Wagman | March 24, 2017
The California Air Resources Board approved a new rule aimed at curbing methane emissions from oil and gas operations.
The new regulation is expected to reduce methane leaks from oil and gas operations in California by the equivalent of 1.4 million metric tons of carbon dioxide annually. The board says that locating and repairing leaks in oil and gas systems will provide "additional benefits in reducing smog-causing chemicals because the same leaks often release air toxins and volatile organic compounds, such as benzene."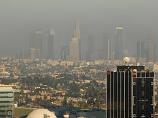 Hazy air in Los Angeles.The new rule, adopted March 23, requires quarterly monitoring of methane emissions from oil and gas wells, natural gas processing facilities, compressor stations, and other equipment used in the processing and delivery of oil and natural gas. Some equipment will also be required to add vapor collection systems.
The new regulation adds to emergency regulations that were put in place by the Department of Conservation's Division of Oil, Gas, and Geothermal Resources after the methane leak in the Aliso Canyon natural gas storage field. Those regulations require additional monitoring and testing at all underground natural gas storage facilities.
The board says that although the largest source of methane in California is livestock, the oil and gas industry is responsible for about 15% of the state's methane emissions.
The board says that its adoption of the oil and gas rule "is an important step" toward implementing the Short-Lived Climate Pollutant Reduction Strategy, which provides guidance for development and implementation of California's overall effort to reduce these highly potent climate pollutants.