Rockwell Automation Releases New Pharma Serialization Software
Ed Brown | January 18, 2017
Tracking and tracing products across the supply chain is mandated by law for pharmaceutical and medical device manufacturers.
According to Rockwell Automation, their serialization package has been updated to provide users with a scalable end-to-end supply-chain platform. The product is built on Rockwell Software PharmaSuite manufacturing execution system (MES) software. Rockwell says it can be adapted to a variety of packaging-line technologies and production-management systems.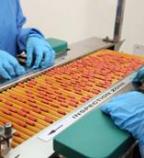 Rockwell Automation offers a pharmaceutical product serialization solutionIt is designed to provide a centralized platform for integration across control and enterprise levels. A Logix-based unit controller with Factory Talk View HMIs allows the company to apply this solution to a variety of delivery models, ranging from turnkey system needs to retrofit and OEM requirements.
The controller acts as the connection point between each production line and various system devices. In addition to serialization, the software helps manufacturers improve troubleshooting and enable proactive maintenance.
The software includes a serialization integration gateway with preconfigured channels for order creation and data exports to integrate into each customer's system, thereby helping reduce upfront engineering costs. The platform also includes a manual serialization and aggregation workflow tool for manufacturers with manual packaging lines.
According to Rockwell, approximately 90% of the potential serialization customer base uses manual processes. The Rockwell system includes label-design software for Windows driver printers and a user-friendly aggregation workflow to simplify the manual aggregation process.