To help meet the state goal of increasing its renewable portfolio standard, excluding large-scale hydropower generation, to 33% by 2020 and 50% by 2030, California utilities are required to install large-scale energy storage systems. Public utility organizations are required to collaborate in developing a storage battery roadmap with the aim of expanding revenue opportunities for storage battery systems.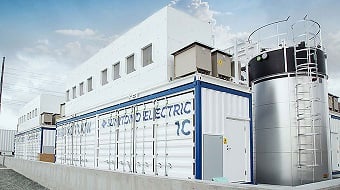 The 2 MW/8 MWh redox flow battery system. (Source: Sumitomo Electric Industries)
It is in this context that the Demonstration Project for Validation of Redox Flow Battery Performance in California was initiated. The redox flow battery system developed for the project is the largest of its kind in the U.S. Project partners are Sumitomo Electric Industries, Ltd. and New Energy and Industrial Technology Development Organization (NEDO), in cooperation with the State of California and public utility company San Diego Gas & Electric (SDG&E).
NEDO aims to resolve issues related to the increasing integration of renewable energy, such as surplus energy as well as frequency and voltage fluctuations, while analyzing the redox flow battery system to improve cost-effectiveness.
The redox flow battery system, suitable for both fast response and long duration applications, will be controlled by an independent system operator to demonstrate the contribution to ancillary services in market participation and to improve the system's economic value.